So this has been a very busy couple of months… I finished up all my current paintings and illustrations in June in time to hand them over to the very diligent and clever James Potter for photography and to produce giclée prints (which are so good, I have to be very careful with my originals, I really can't tell them apart). Since then; I have made new greetings cards, mounted around 240 prints, (mounts provided by Detail Framing Studio, who have proved to be very helpful and above all patient), framed some of those, taken advantage of my long suffering and exceeding helpful friends to stuff cards and made lists of all the other 'stuff' I need to do for the Pittenweem Arts Festival… did I mention that to anyone?
I've also been instragraming, facebooking and tweeting to try to get the word out, and hoping that I am not over saturating, or under saturating… Thanks very much to Katherine Tyrell for including me on the Scotland page of exhibitors on the Botanical Art and Artists website. I've also asked the various societies with which I am affiliated to do a wee publicity push for me, most of which have obliged on their sites or in newsletters which is really welcome. Thank you ESBA, SSBA and SSA.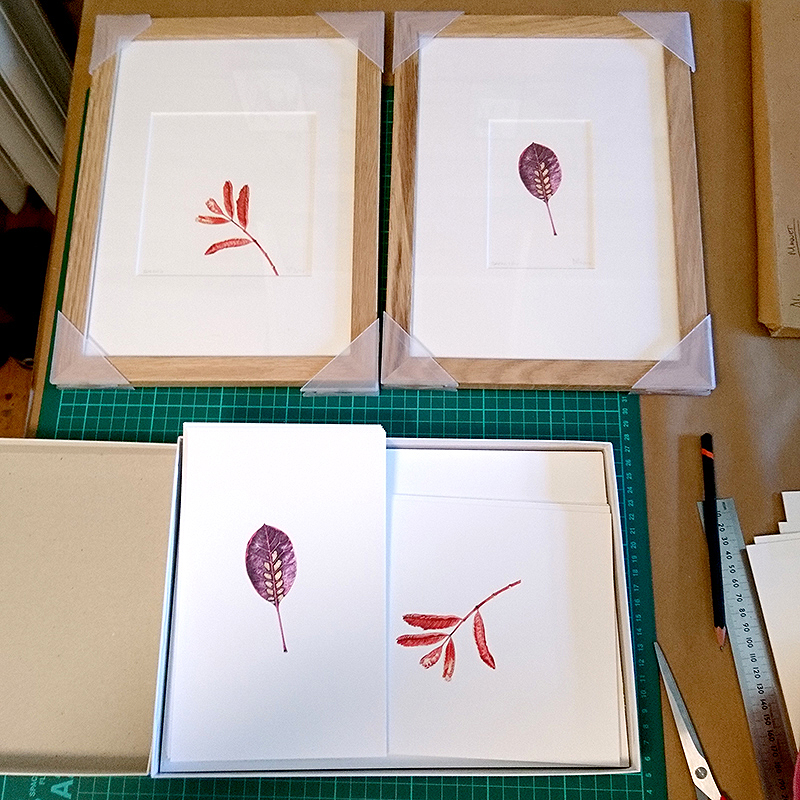 Wee prints… mounting and framing…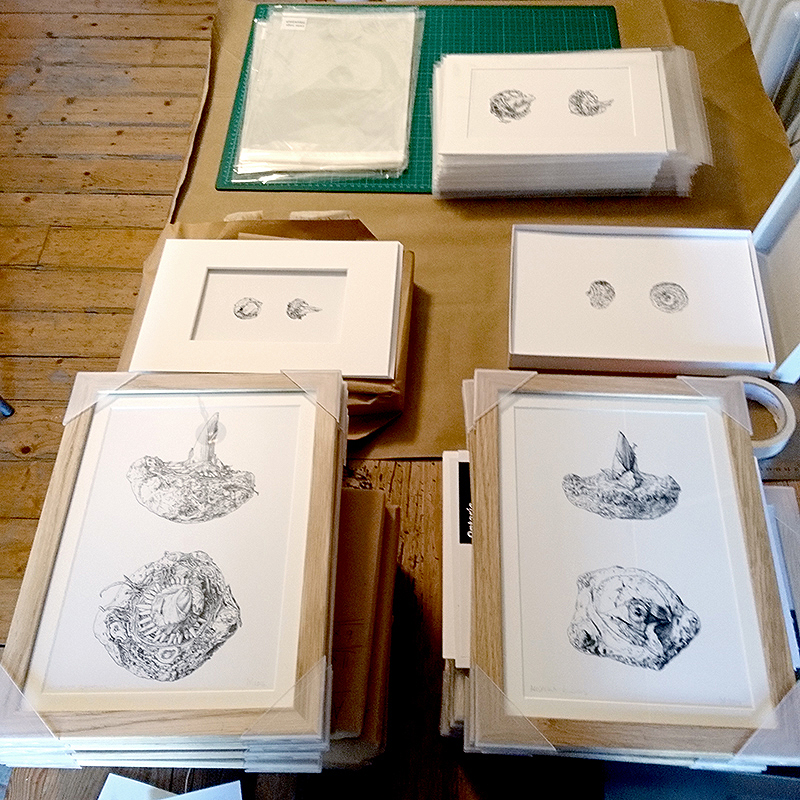 More wee prints, Arisaema tubers in ink, more mounting and framing…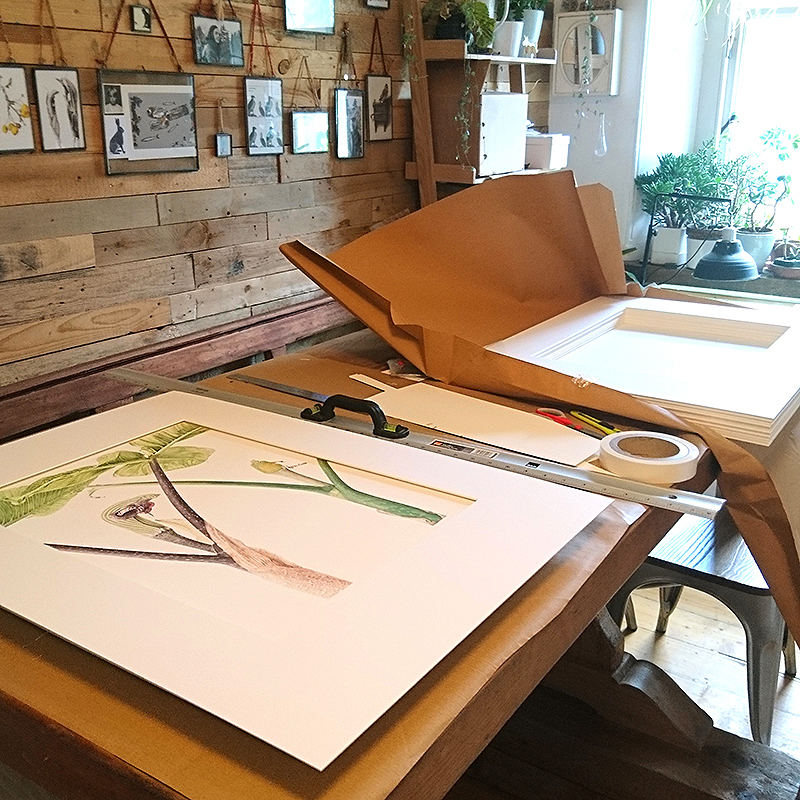 My new Ariseama watercolour prints…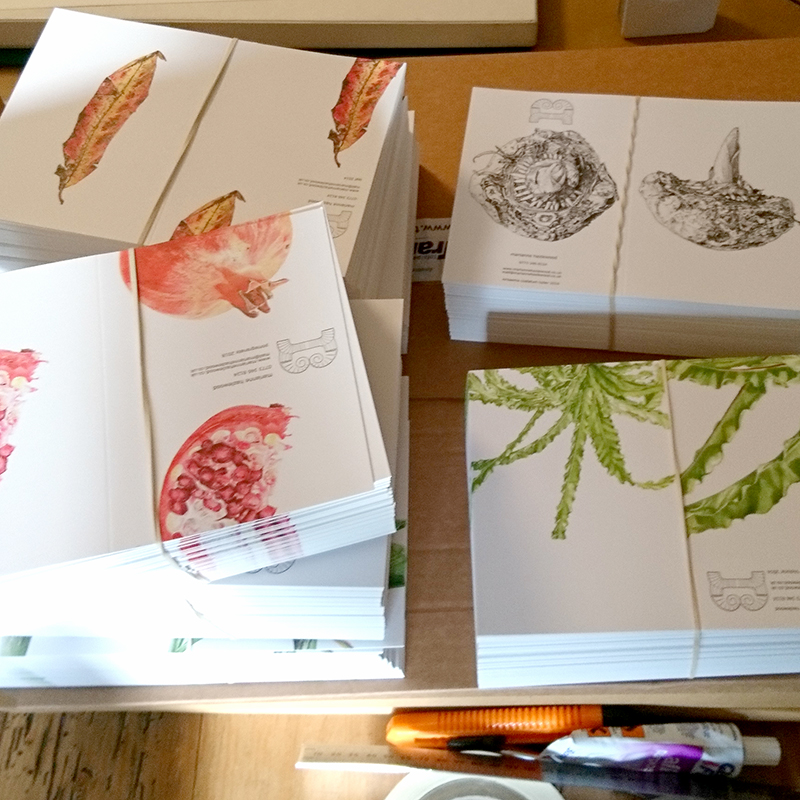 New CARDS, I love getting new cards (-_-)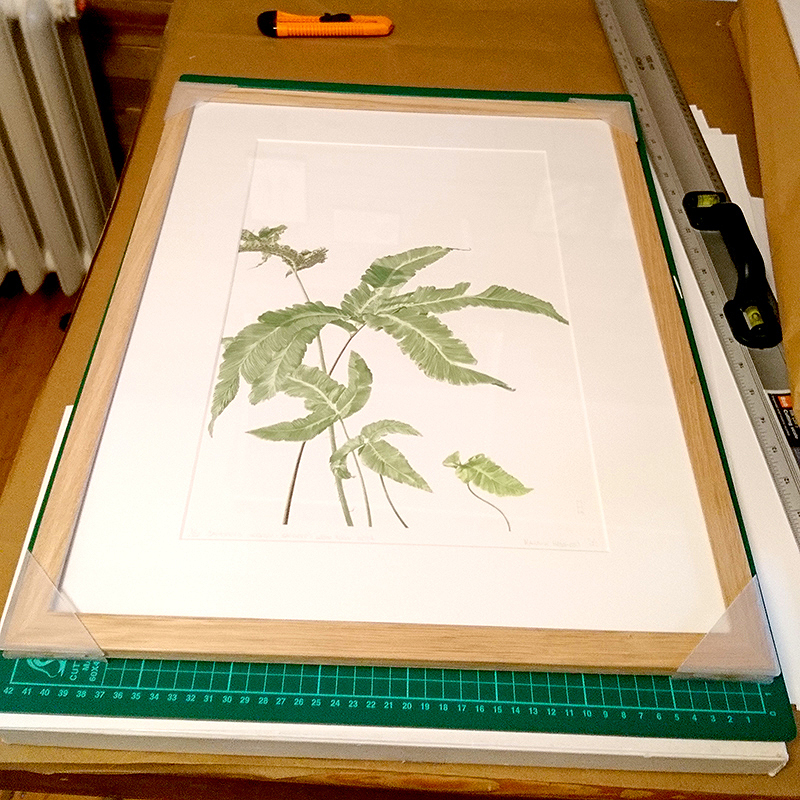 My original fern paintings will be for sale along with prints and cards.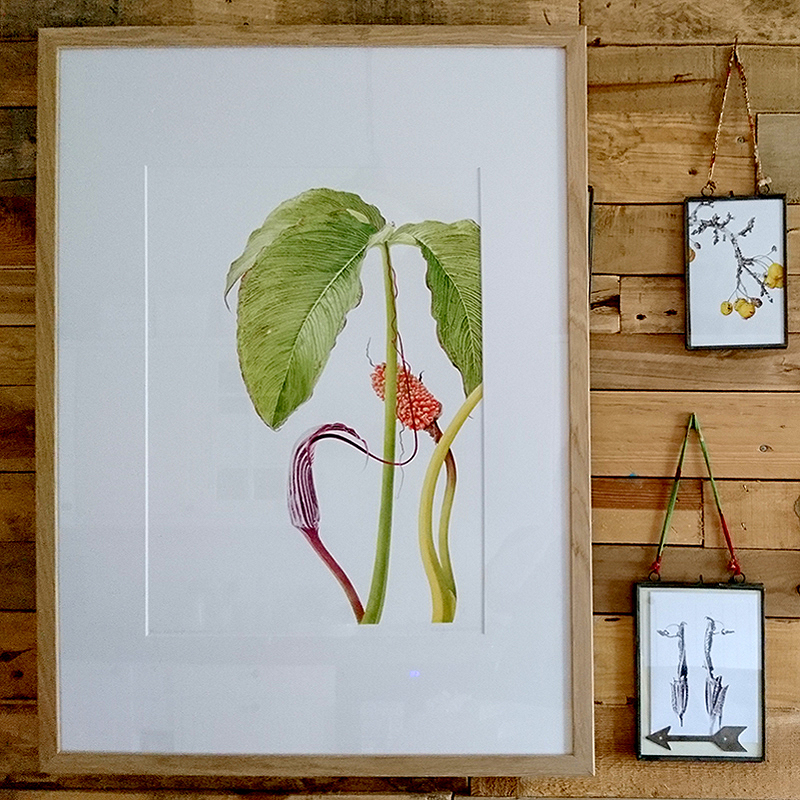 Testing, I think it looks pretty good…
I don't know how it usually is approaching solo exhibitions, but I my nerves are jangling a bit now that no one will come (except for my friends, and although they count immensely I can't expect to make a living from them for the rest of my life!) (-_-) OR that no one visiting the festival will like botanical art… Foolish paranoia! I hope…
It has been anybody's guess how much to prepare for the exhibition, particularly when it's my first solo foray. These are some of the questions we (we being myself and Alex my fantastic husband) have asked ourselves, and anyone else who would listen… It takes place over 9 days, how much do you put up? Do you have to have replacement artwork should something sell? Should you sell originals or prints or both or just one type? How much should they be, Should you get ancillary products made up? What payment option should you go for, many many things to consider…
I've excelled myself with spreadsheets (ahem) and they are running my life currently… that and a few lists on the brown paper covering our kitchen table (which is up on sleepers, a great standing work station).
We've also been mulling over what to serve at the private view? I think we've finally settled on mini savory scones with Harris Gin & Tonic, maybe with a bit of rosemary from the garden… and bubbly water… but it might all go pear shaped and end up being a bottle of pop and some crisps! We are now working out the logistics of how to bake and serve… and then sample the wares… you have to don't you? The list goes on…
I hope to see you there at some point during the 2 weekends and week inbetween, I'm pretty much organised now and am looking forward to it! If I'm very clever I might write up what worked so I can use it again next time…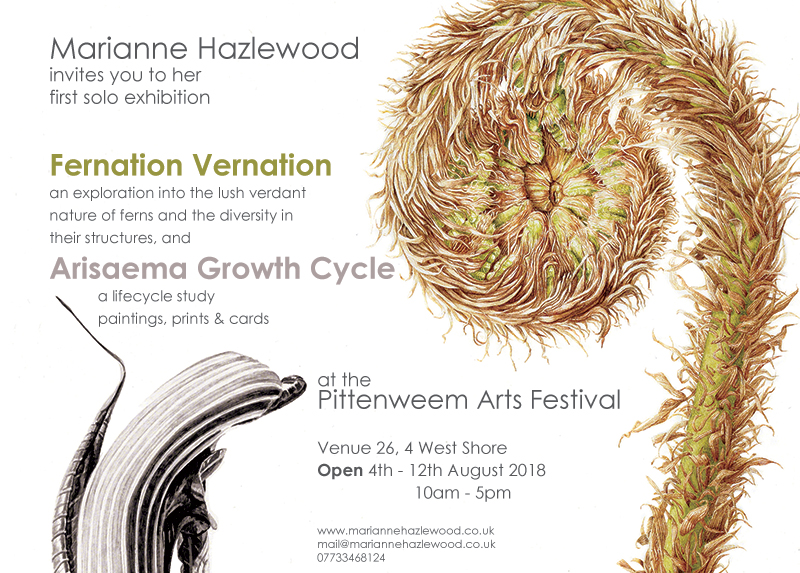 Other stuff…
The Flora Scotia exhibition has been extended and is now running in the Benmore Botanic Garden, it opened on the 5th July and runs until the 26th August. The exhibition features poster prints of the original artwork on display at the earlier RBGE Flora Scotia exhibition. It is fantastic that the exhibition is having a second life and Benmore is a fantastic garden to visit!
Accompanying the exhibition and due for release at the Edinburgh Book Festival on the 16th August is Greg Kenicer's book on Scottish Plant Lore – an Illustrated Flora  which will include images from the exhibition and more. Amongst the other exhibitors I have been selected to be included in this, I feel very privileged and just dead excited to be in print in a real book! Yeay! Sadly I was so deep in PW organisation that I didn't manage to buy tickets for the launch, if anyone has any going spare, let me know (-_-)
I've been listening to a book called Wideacre by Philippa Gregory, it's rip roaring, with many twists and other unexpected bits! BUT I don't seem to do audible downstairs for some indecipherable reason… soit's on hold until I begin painting again. However I have read some actual paper books (-_-) The Outsider by Stephen King (a 4th or follow on in the Mr Mercedes trilogy…) and Sleeping Beauties by Stephen King and Owen King. The Outsider had me become a semi-sofa-recluse while I spun through its pages, a fitting follow on from the Mercedes books, no spoilers here… Sleeping Beauties was a return for me, I have already listened to it and decided to read it just incase I had missed anything, I hadn't, its very absorbing and of its time and I will read it again as I do so many Stephen King books, I now have to go and search out some solo Owen King…