Our garden and a bit of my work featured as a viewer's video on episode 13 of BBC's Gardeners' World*. It was so exciting to get the call saying that we had been picked for inclusion. Thanks so much to the whole Gardeners' World team for including our garden videos. We were very chuffed and it was very exciting to hear Monty Don say my name and to sum up our space so eloquently.
"Now we've had a film from Marianne Hazlewood in Edinburgh who is an artist and her garden is completely central to her work"…  …"I really like the way that that garden combines the intense awareness of detail which obviously she as an artist feeds off, but also has a real sense of sculptural space, it shows that a garden can and perhaps should be a creative act that reflects your own personality" Monty Don
*Now available on catch up on iplayer – Gardeners' World – episode 13, 2020.
I'd also like to thank everyone who emailed or texted their congratulations and thoughts about the show.  It was so lovely to hear from everyone. And a huge thanks to everyone who helped spread the word, including Royal Botanic Garden Edinburgh who included a piece on their Botanical Stories page. (-_-) If you are interested in supporting them during this Covid-19 lockdown, you can find out how to do so here.
An Artists Working Garden
The main premise of the piece on Gardeners' World focussed on how the garden works for me as an artist. As well as being the place that I grow the plants that I am working with currently, I also grow a lot of plants that I might like to work with in the future. It's always good to have a few seasons with a plant before you work with it so that you can get to know it a bit.
I have most of my Arisaema either planted in our shady bed, or in pots. New tubers are planted in pots so that I can photograph and create measured drawings from them. Once I have worked with them they get retired and planted into the beds. Usually they are left alone beyond that point, but sometimes I do dig them up again!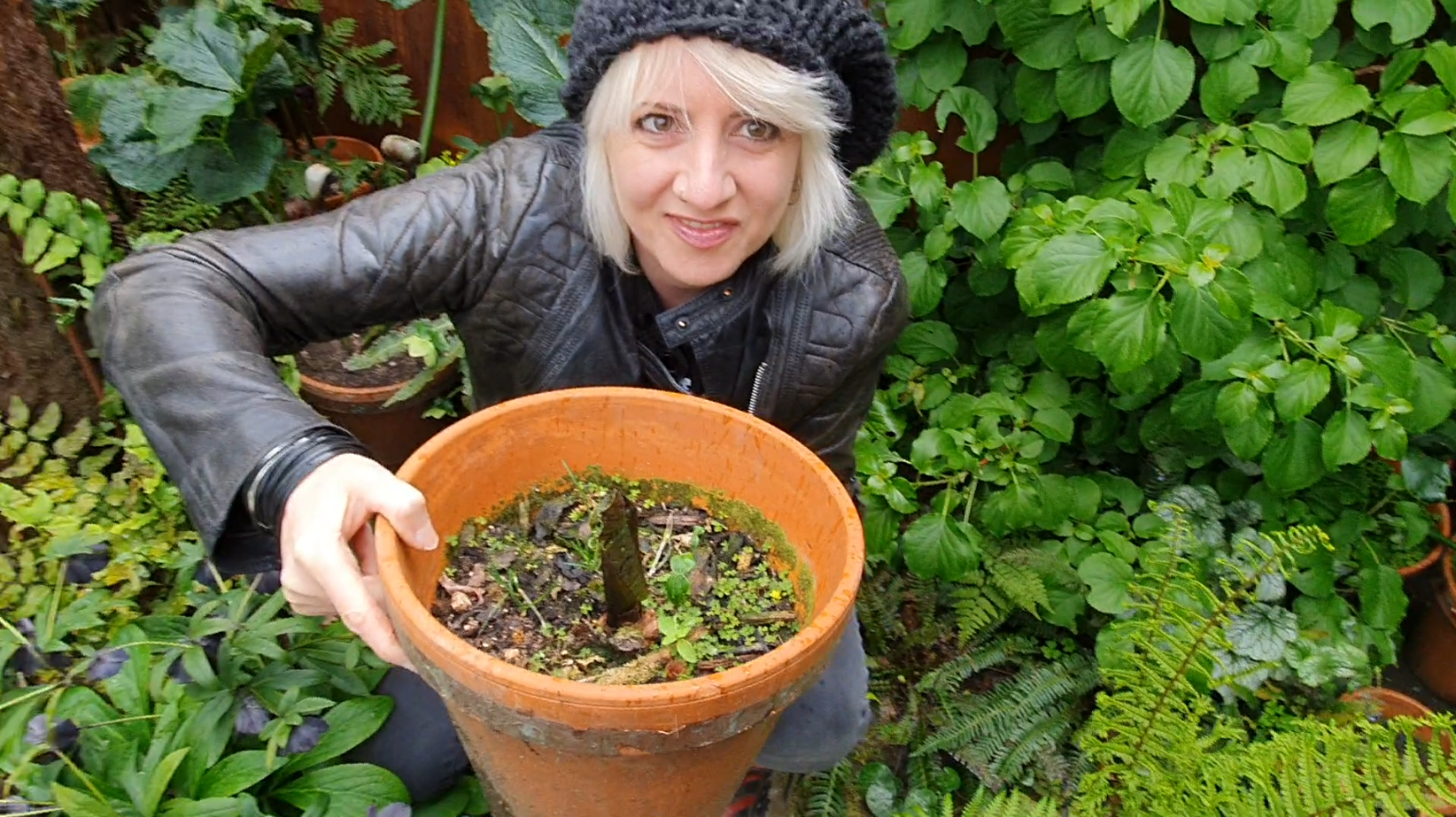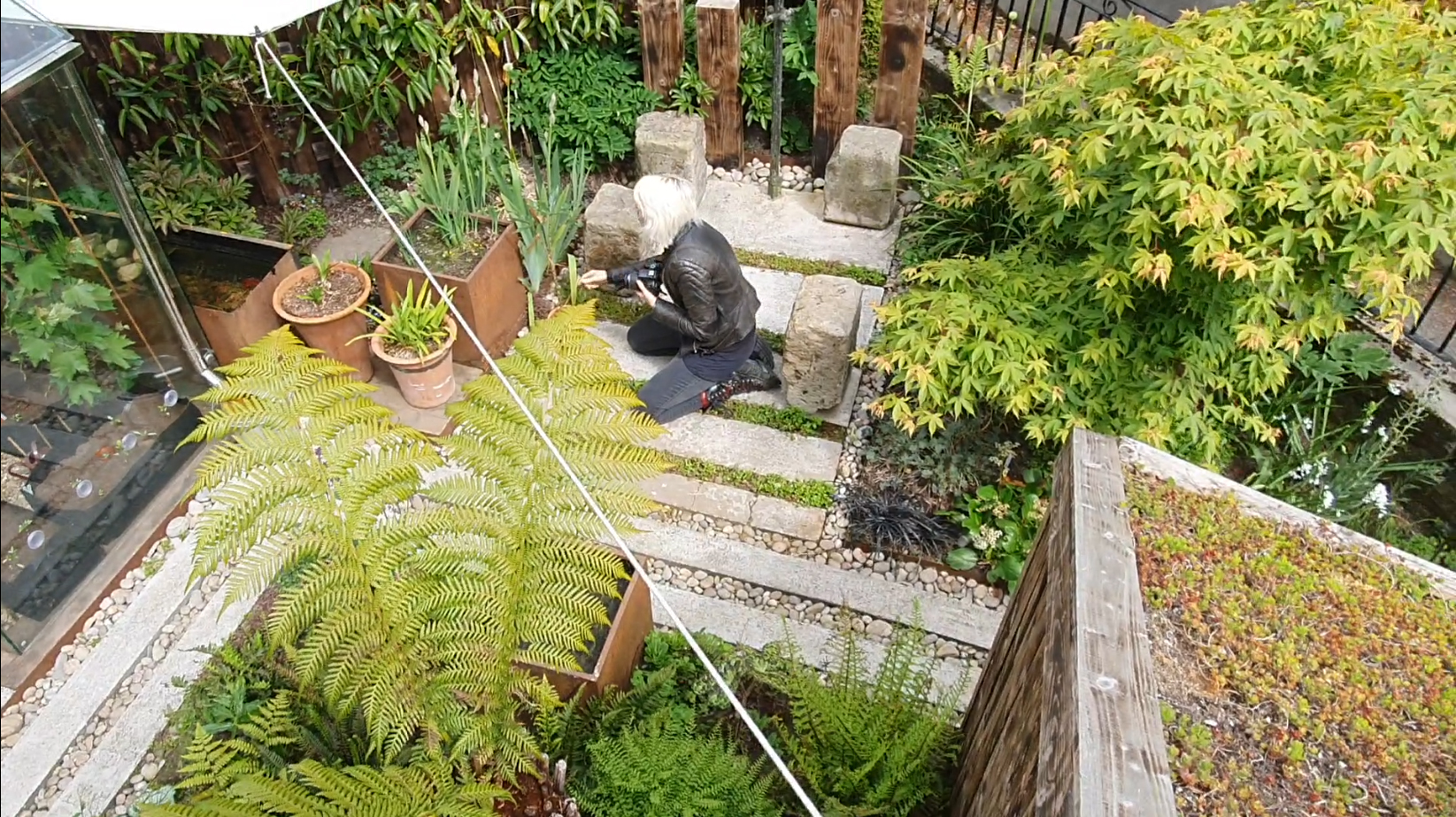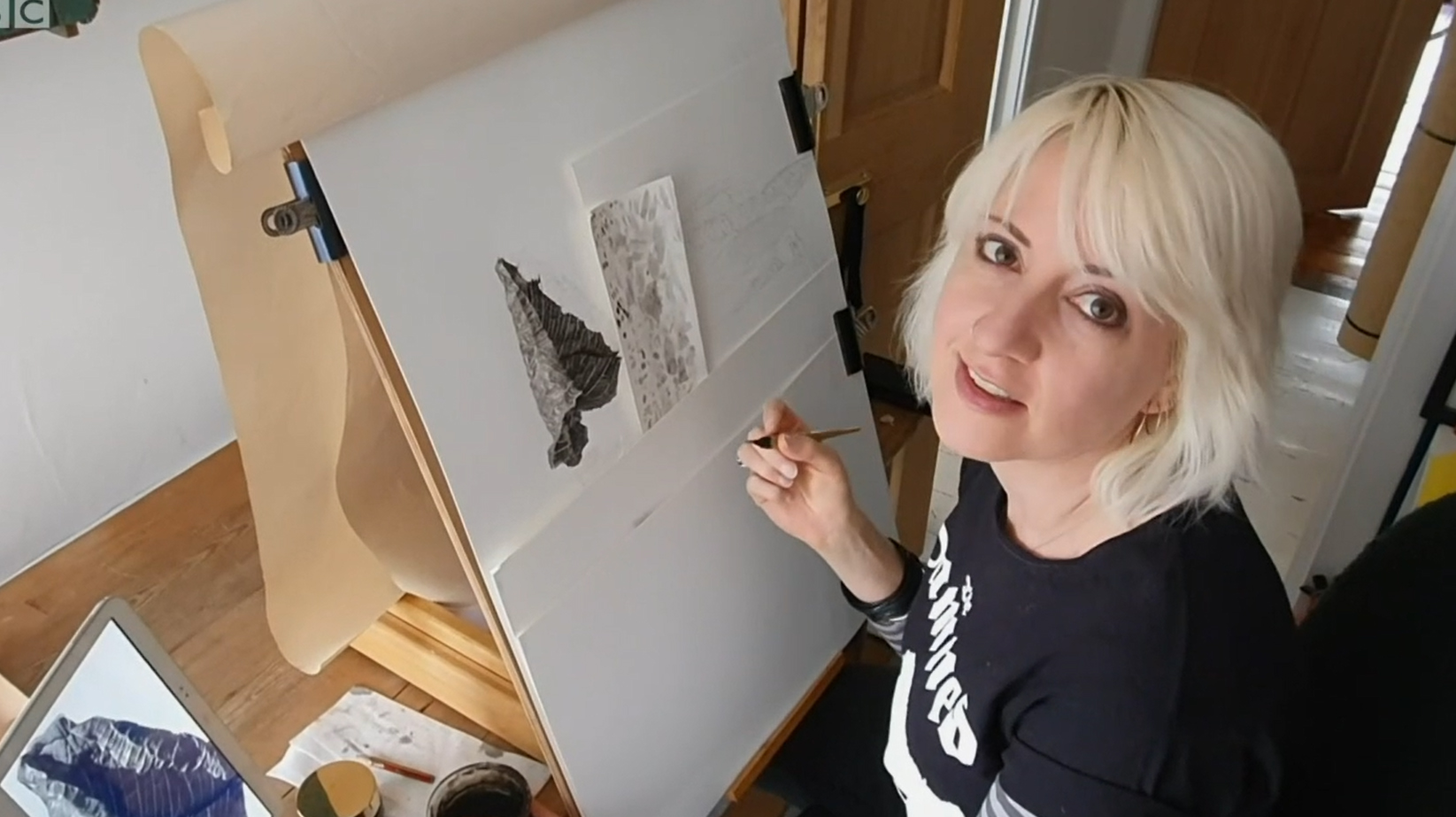 Our Garden Build
As the  garden has had this flurry of attention, I thought I'd put up some progress shots of our garden build as I've been going through old photos.  (-_-)
Back in 2017 this was our garden, a bit overgrown and not very exciting. I kept my Arisaema on shelves in the most sheltered part of the garden by the stairs, but it was still a wee bit too sunny for them. We didn't like cutting the grass and you couldn't walk across the lawn without standing on snails!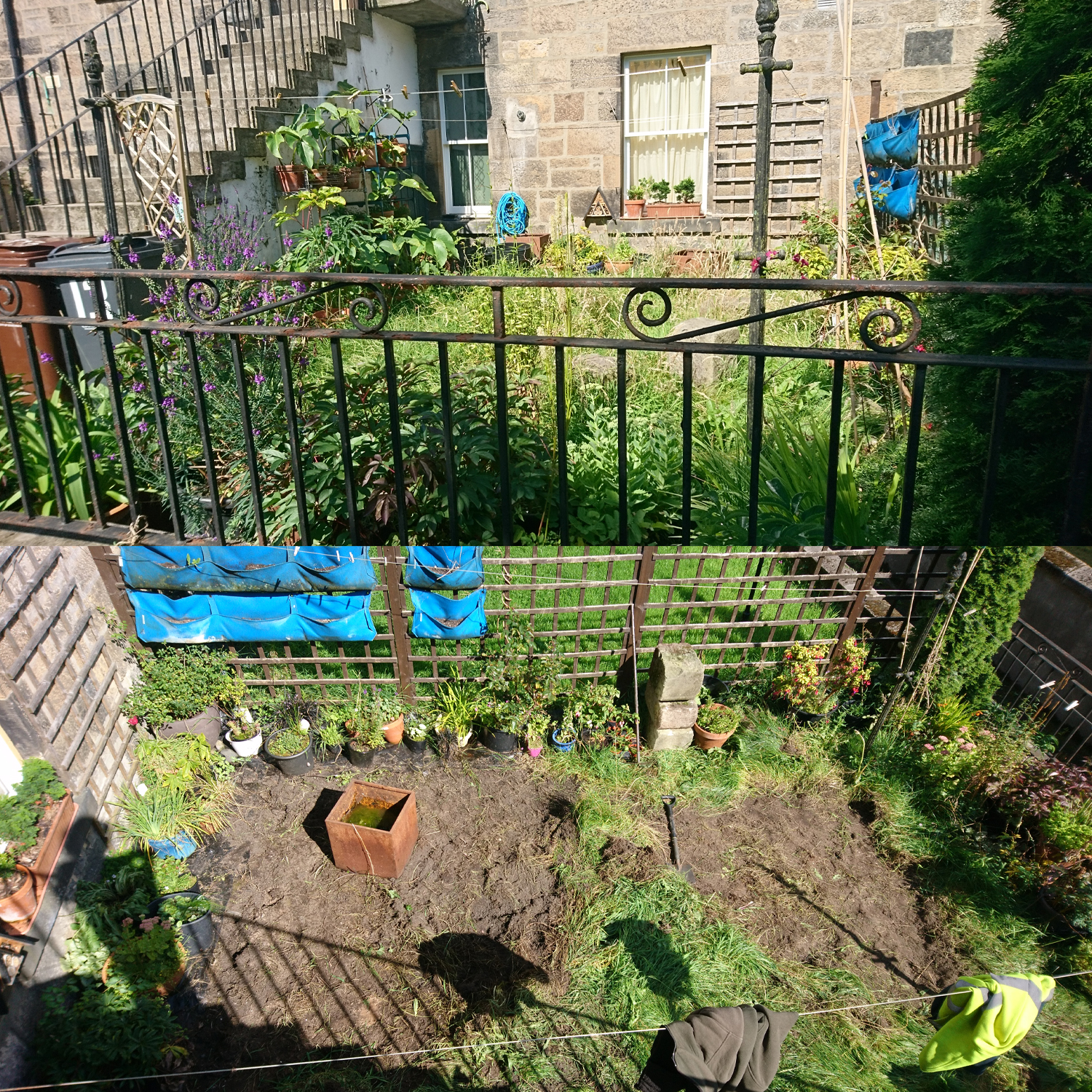 Planning
We cleared the garden in early winter, transferring into pots all the plants we wanted to keep. The planning of the garden took us a good 6 months. There were many drawings on the back of envelopes trying to work out how to combine all that we wanted. The garden is 6×5 meters so it has a lot of work to do in a small space. We wanted to maximise the planting space and create areas of differing shade so that we could create small microclimates within the garden. One of the benefits of having lived in this flat for a wee while already, was that we knew where the sun rose and set and the patterns in the garden. We mapped out triangular beds, paths and the seating area. Once we had it all drawn out Alex got to work on the hard landscaping.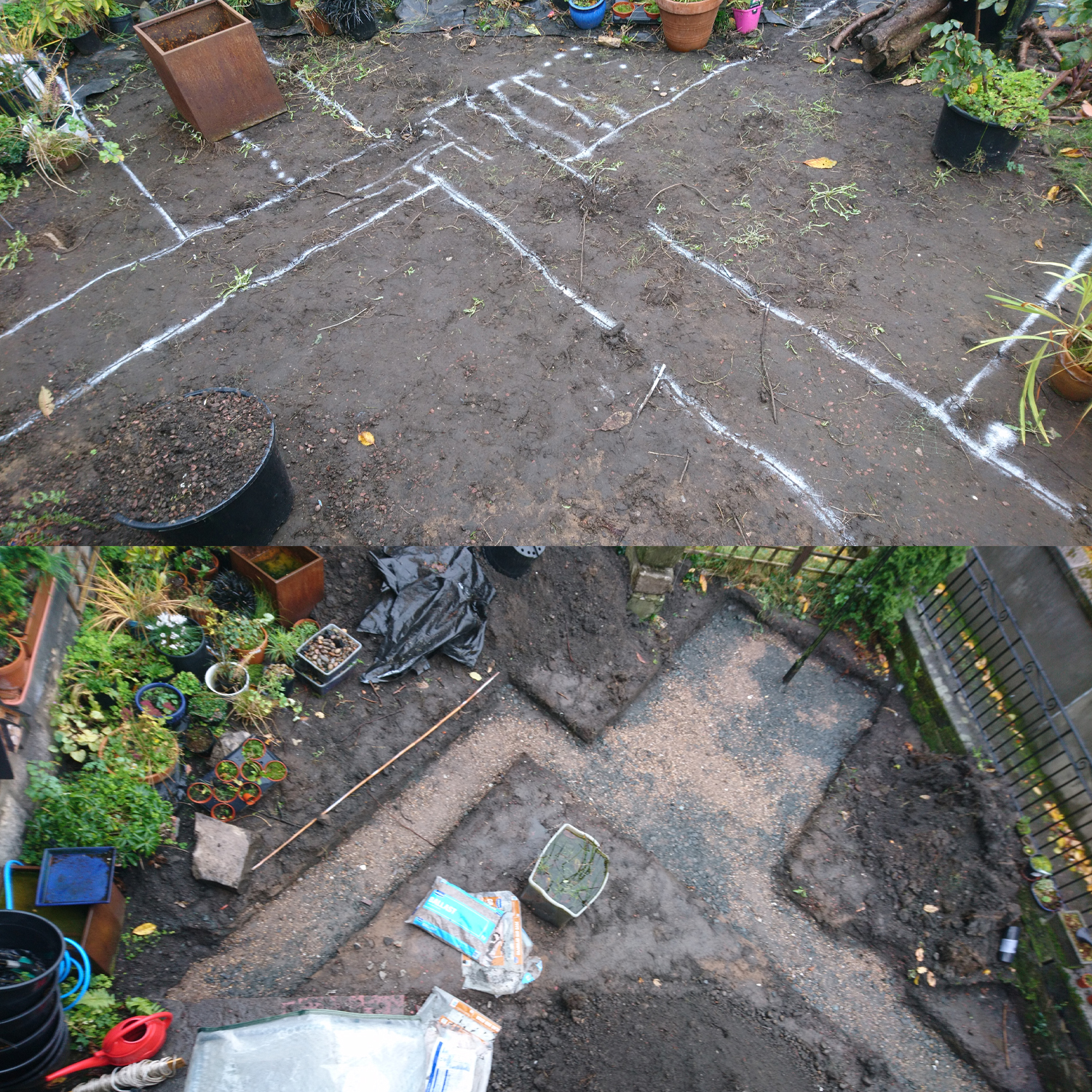 Hard landscaping
We decided to try to keep the different materials used in the garden to a minimum, it is such a small space, I felt too many different materials would be a distraction.
Concrete and Stone
We opted to also use a mixture of concrete and stone in the garden to compliment the colony buildings. They are stone built, but the steps have been refaced with concrete.
We recycled the stones from an old wall at work that was being demolished, they provide somewhere to sit. The concrete beams were inspired by a garden I saw on one of the BBC garden shows, I loved the brutalist feel to them, softened with planting and pebbles. This style of non-solid path allows for good drain away. Alex created shutters and mixed and poured the concrete beams for the paths and seating area.  He hand-crafted the shutters so he was able to create them at the exact size that we needed them rather than trying to use pre-existing beams or slabs. He hand mixed the concrete, filled the shutters and smoothed the surface, they looked fantastic and then all the cats in the area did a wee dance on them overnight!
Wood and Steel
Alex built a new shou sugi ban fence using wood he had weatherproofed through burning. This process took several months of work on the weekends and some evenings over the winter. The shou sugi ban effect was further tied into the garden through the clad bin store and, by incorporating some burned sleepers for the greenhouse base. Sleepers were also used as a backdrop to our seating area.
We had a couple of pre-existing Corten Steel containers from our old garden, so Alex cut and welded Corten Steel edging for the beds. He also added a Corten Steel water tank to collect water from the greenhouse, again specially made to fit the space. Last summer he clad the stair wall with steel sheeting which has rusted and adds such a lovely tone to that side of the garden.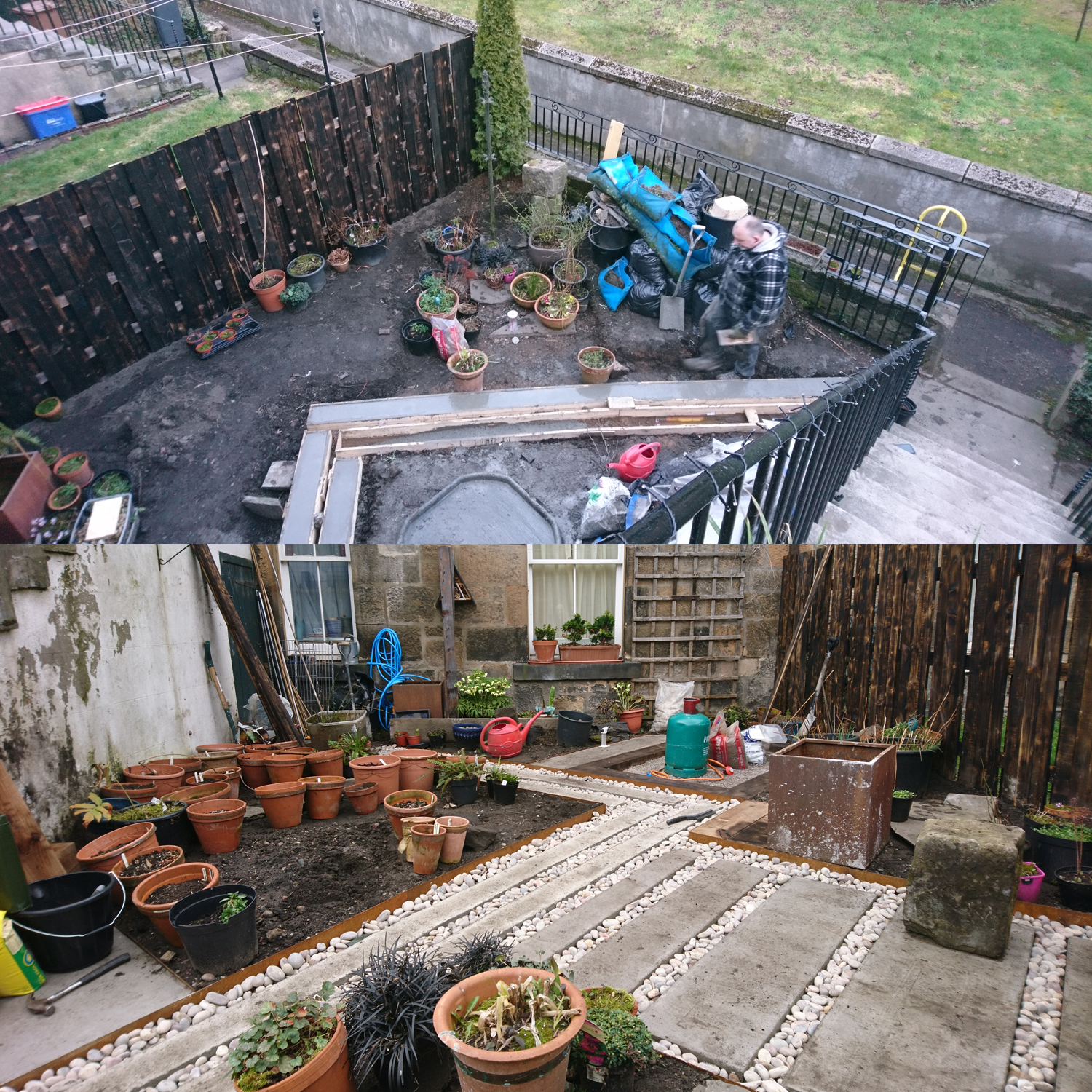 Planting and adjustments
Early in 2018 I began planting; I hadn't planted a garden previously so I wasn't sure about spacing. Some plants have been moved and moved again as I have learned what works and what doesn't.
You can see the fantastic bin-store in these pictures with its Sedum roof. This was feat of diangle engineering, as it goes up inline with the banister of the stair and also tapers down towards the garden. We had a bit of a 'chat' about the feasibility of such a structure, but it worked in the end! The bin store principally provides a covered storage area for the bins, but also provides a great shade area for the ferns and Arisaema.
We moved the pebbles from between the concrete slabs in the seating area and replaced them with Sedum, as we had a lot left over from the bin-store roof.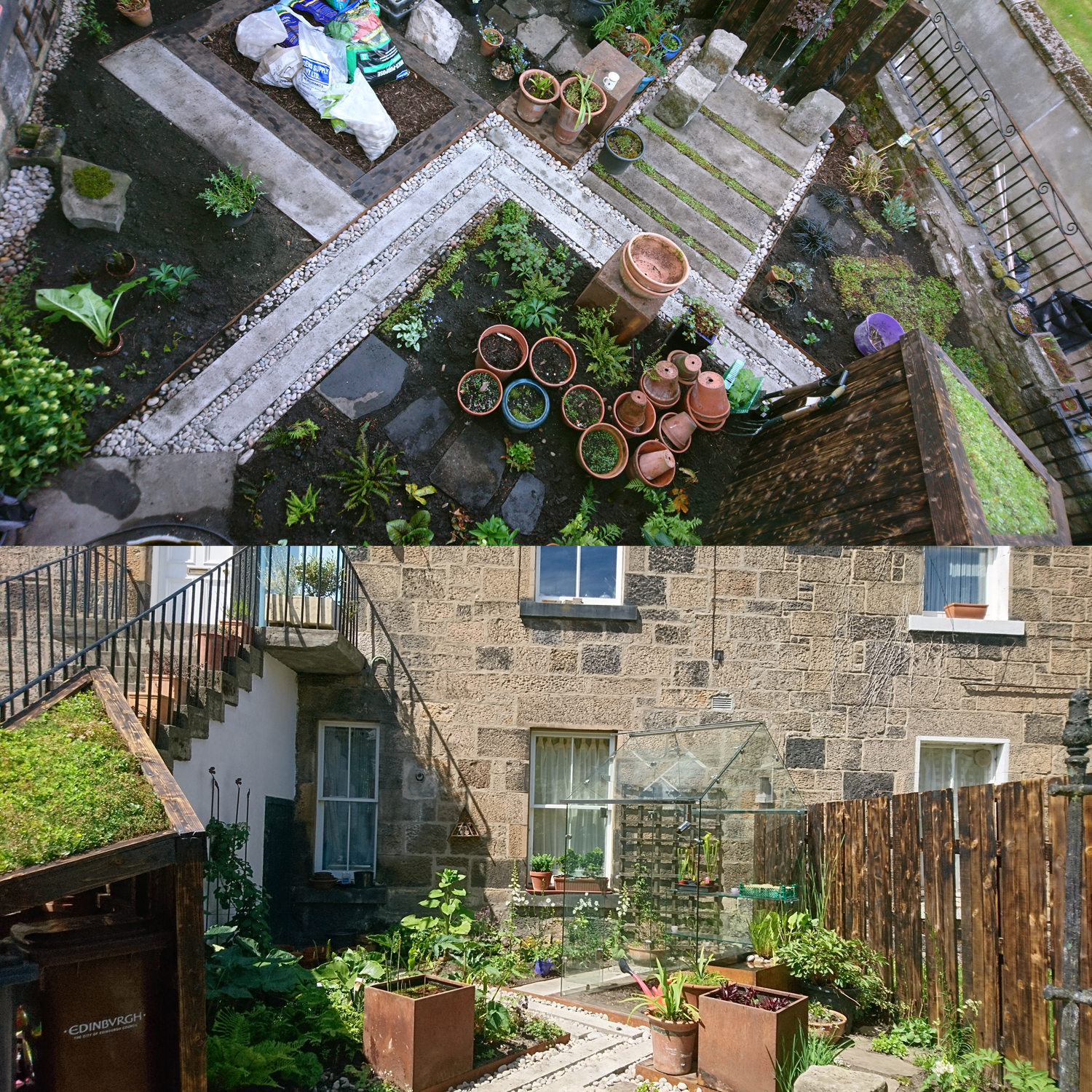 Establishing itself…
These photos are from later on in 2018 when the planting really started to fill the space. We used our sweetpea stakes by visual artist Andrea Geile to hold our climbing Hydrangea in place. Our Cardiocrinum giganteum flowered in its first year, usually one has to wait a full 7 years to get a flower spike. We were gifted a mystery grapevine which is in the greenhouse. The grapes are black ones and have such a lovely delicate flavour. We also included a tree fern to bring some height into the shady bed. This is a fantastic addition and is also now a bee house; I think they like the fluff.
We are also now learning what to plant to keep and what to plant to feed the slugs and snails! Lupins and some Allium just don't make it in this garden, I haven't dare try Hosta!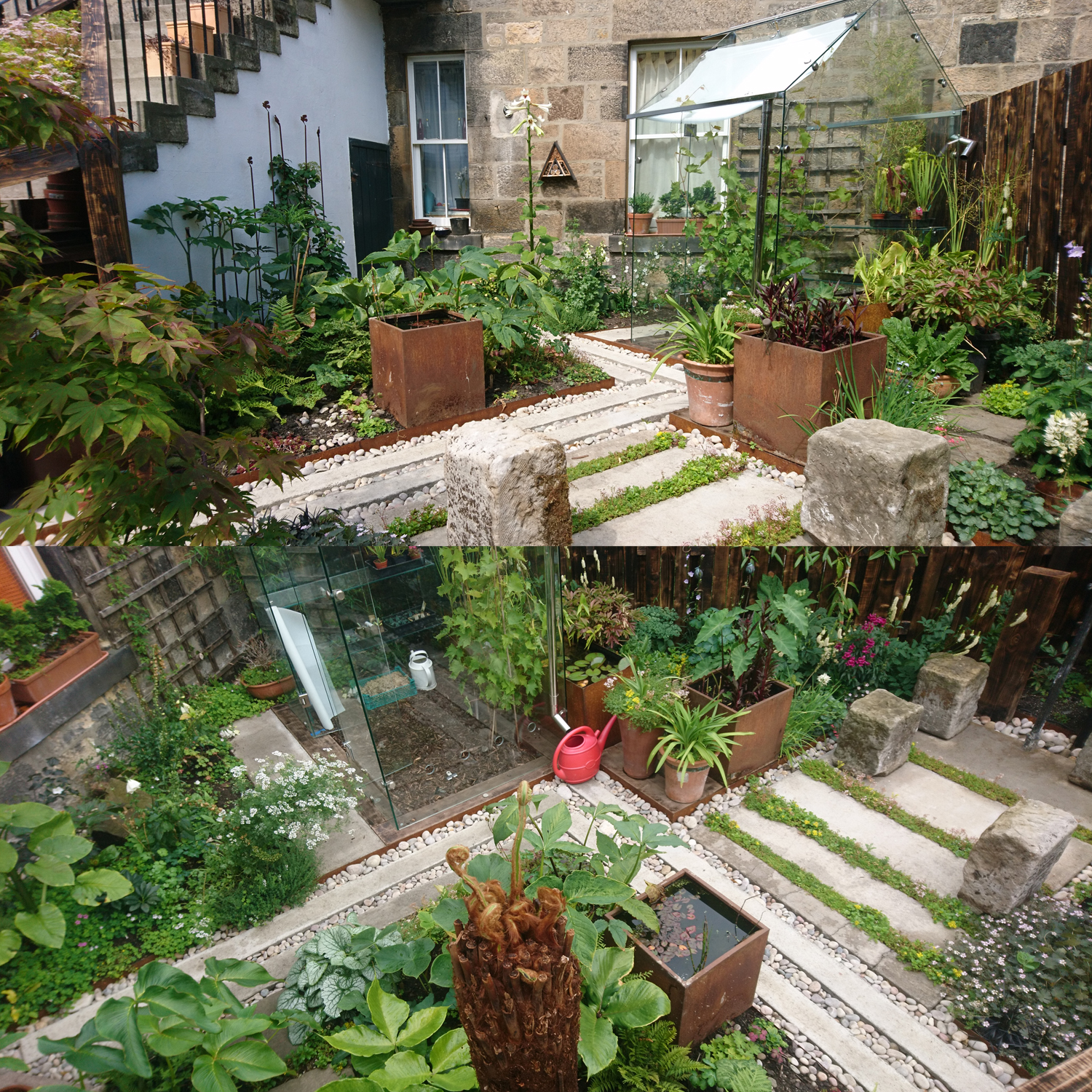 2020
This is the garden this year; it has bulged and is feeling supreme! We planted an acer last year, which we bought as a massively discounted 'second' as it was missing a limb. It has really filled out adding further shade and form in the garden. This year we are growing a lot of edibles in the greenhouse and up the steps, and we have added an insulated side to our water collection tank by the greenhouse and the sail shade. The sail is a recycled boat sail. We are hoping that these efforts will keep the tank a bit cooler and stop so much blanket weed from growing. That's it thus far, we'll probably have to reduce things a bit next year, but we'll think about that in March… (-_-)