I am delighted to be taking part in the Borders Art Fair
I am a BAF newbie, come and see me at Stand 17 to cheer me on, and celebrate my birthday on the 19th! It's a BIG one!
I'm delighted to report that I won BEST STAND, so I will be returning next year (I would be anyway, it was a great event) as my prize is a free stand – YEAY
There are 70 Plus exhibitors, including artists, galleries and collectives plus the Spotlight stand curated by the Royal Scottish Academy. There is a pop-up print studio, artist's demos – I'll be doing a demo on Sunday 19th from 12 – 2pm – and online workshops. Enjoy the indoor food village, with a variety of food vans while you take a break from the exhibitor stands, or there are restaurants, cafes, pubs and bars in Kelso, all of which are walking distance from Springwood Park.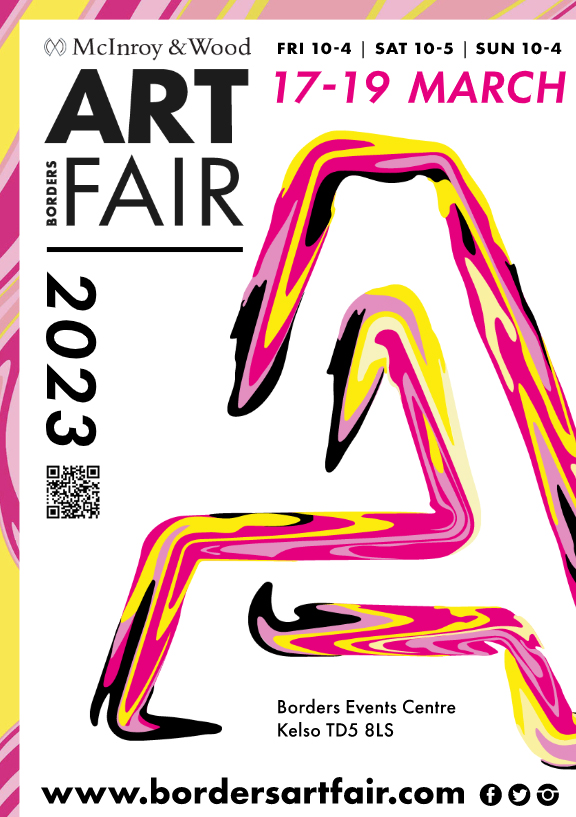 Download the Borders Art Fair Brochure for more details >>
Borders Art Fair
Friday 17th March 10am – 4pm
Saturday 18th March 10am – 5pm
Sunday 19th March 10am – 4pm
—
Borders Events Centre, Border Union Showground
Springwood Park, Kelso TD5 8LS
Fabric & Wallpaper launch
.
Following the great reception of my fabric on Sarah Shepard's harp stool, at the Pittenweem Arts Festival last year, I decided to work on some more fabric designs using my paintings and illustrations, and I'm launching my first couple of ranges at the Borders Art Fair. If you are interested, come along to the show to see the first samples.
I've created new upholstery fabrics and also wallpapers, which I'm really excited about. I've worked on a couple of ranges, focusing on some of my fern paintings and using a couple of the flowers from my ink shoot pieces. I have had a lot of fun working on these, choosing fabrics and wallpapers and I'm really excited to see what you think.