While watching BBC's Gardeners' World in late March*, Alex and I noted that they were asking viewers to make videos of any cool projects in their garden… *what a massive relief on my part that it was going to be continuing to be made and broadcast during lockdown, phew!
We have a water collection tank which sits beside our greenhouse. The position is not great as it's in full sun and it's a metal tank so it really gets hot. Our garden project this year was to work out how to keep it cool, so that it doesn't end up completely full of blanketweed, which then clogs up the watering cans!
So we got busy, and with a few missteps we cleaned and repainted the tank. Shot the video the wrong way up, and then did some more video the right way up explaining our project. This included insulating the tank and adding a sail shade, then we submitted the videos and sat back… Gardeners' World got in touch to say that they were interested and had shortlisted us, but asked if we could do a bit more video about the garden and my work. We did those and sent them in too. (-_-)
For our 15 seconds of fame (maybe slightly longer)… watch episode 13 of BBC's Gardeners' World on BBC2 at 9pm Friday night, repeated on Sunday at 8am and then available on catch up on iplayer – episode 13.
Nervous? MUCH! (-_-)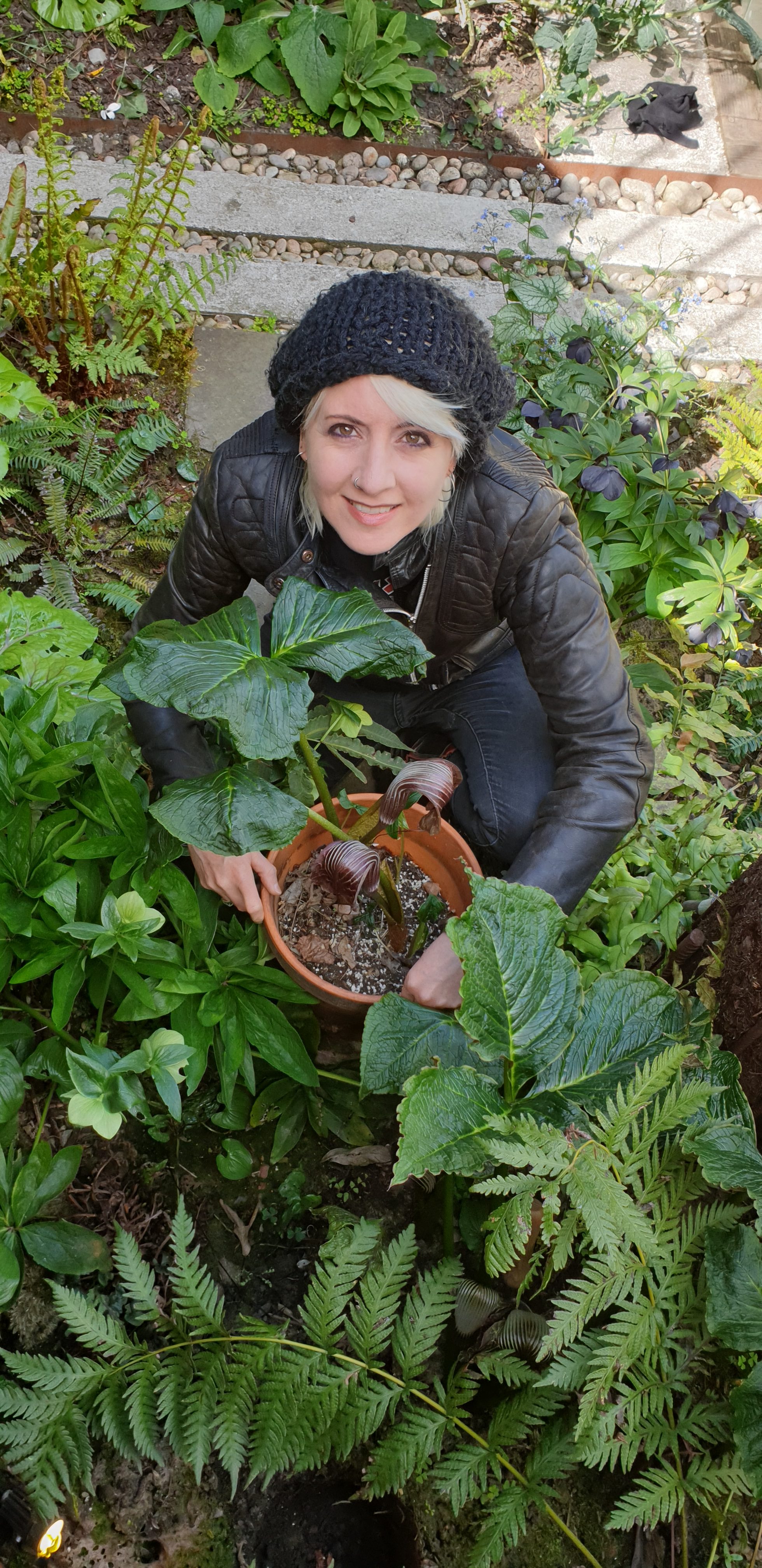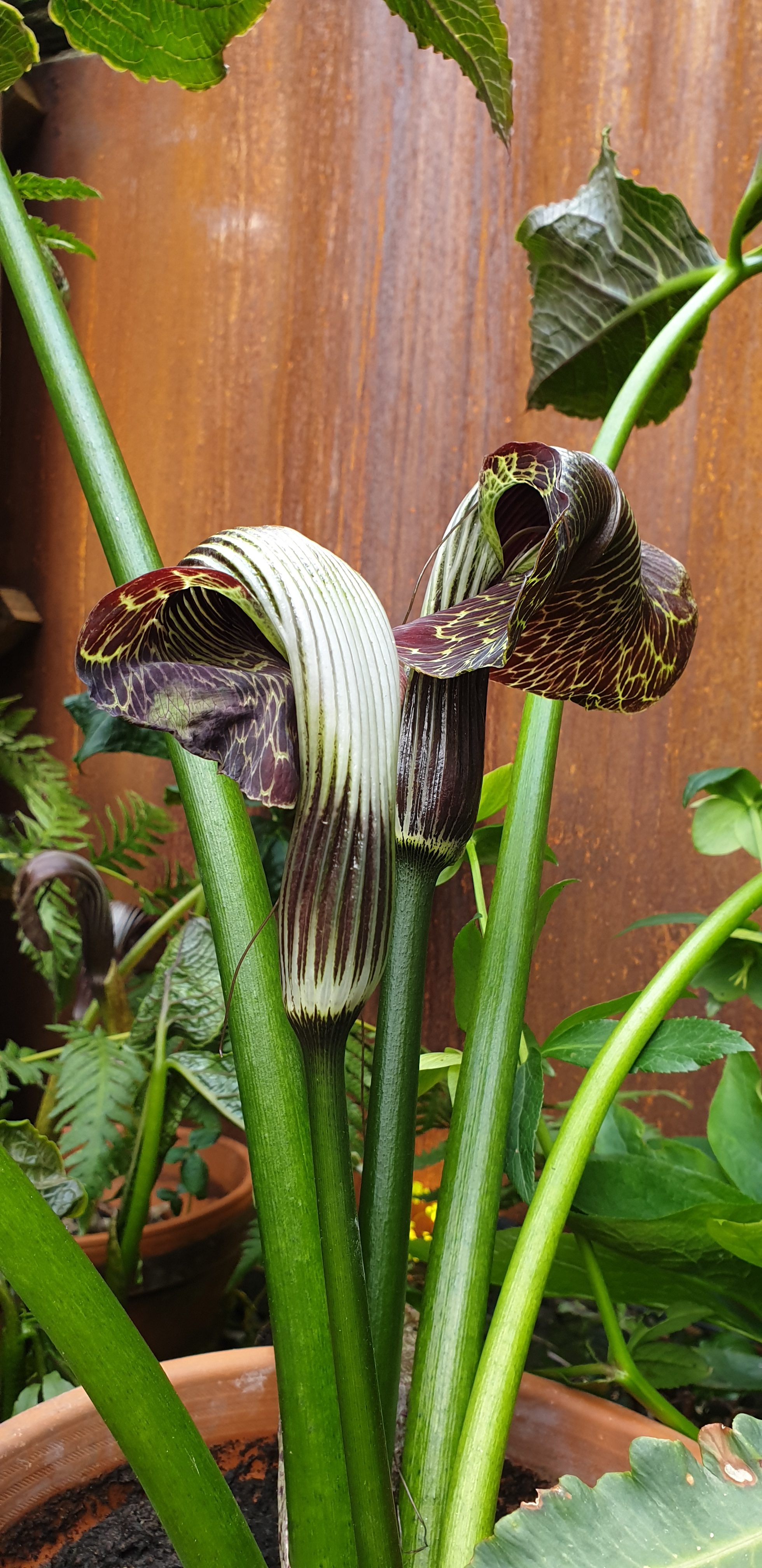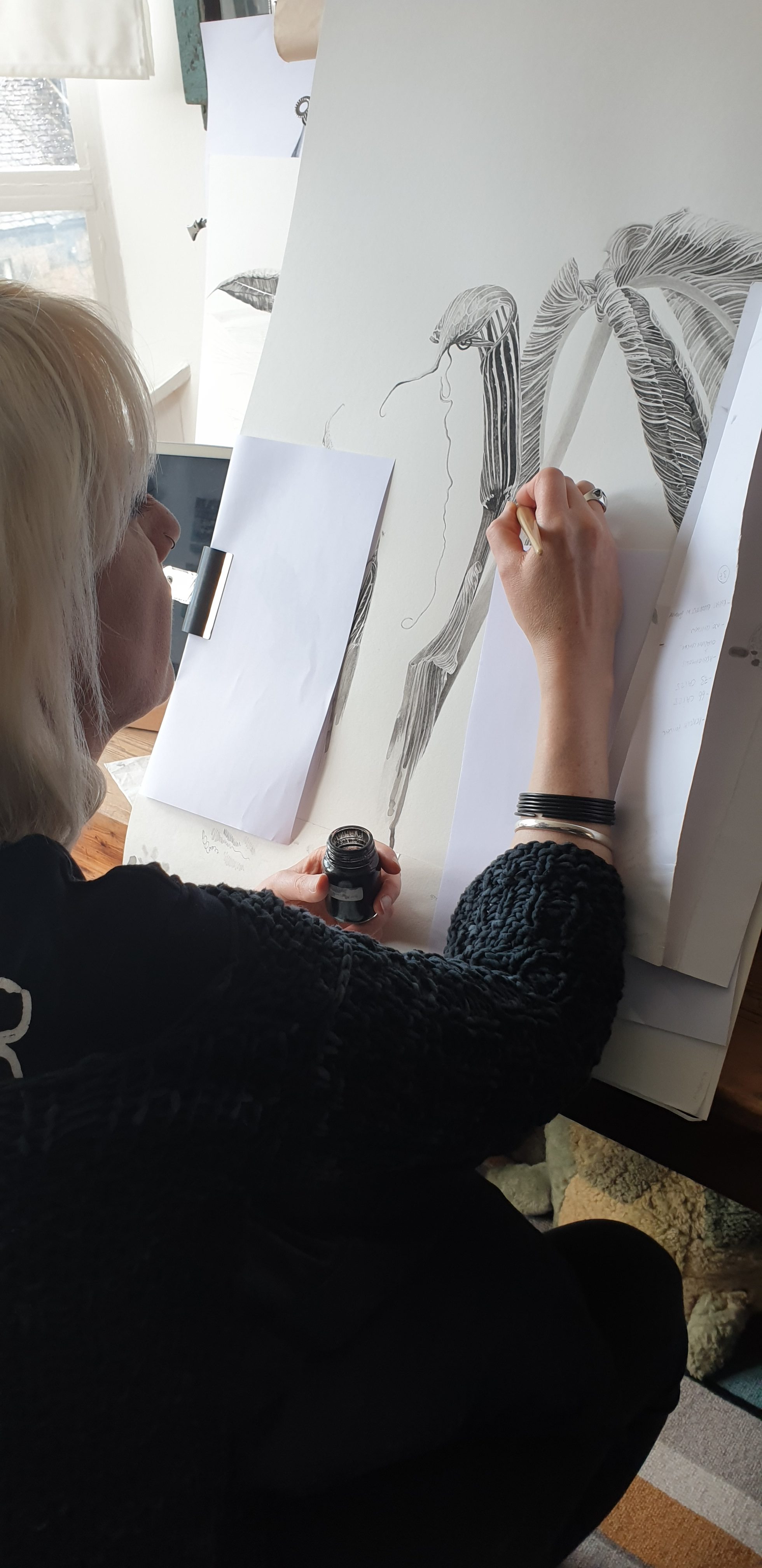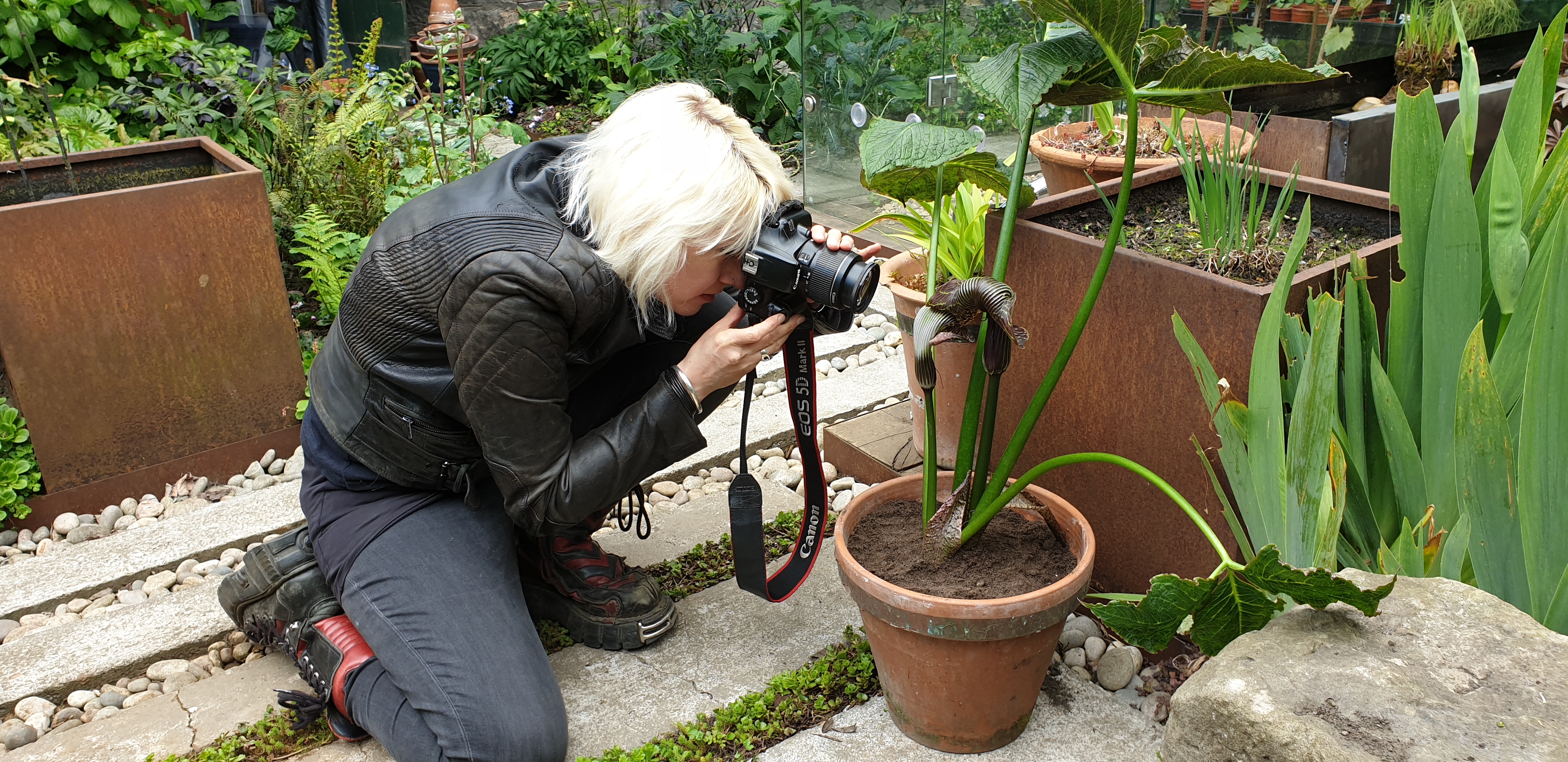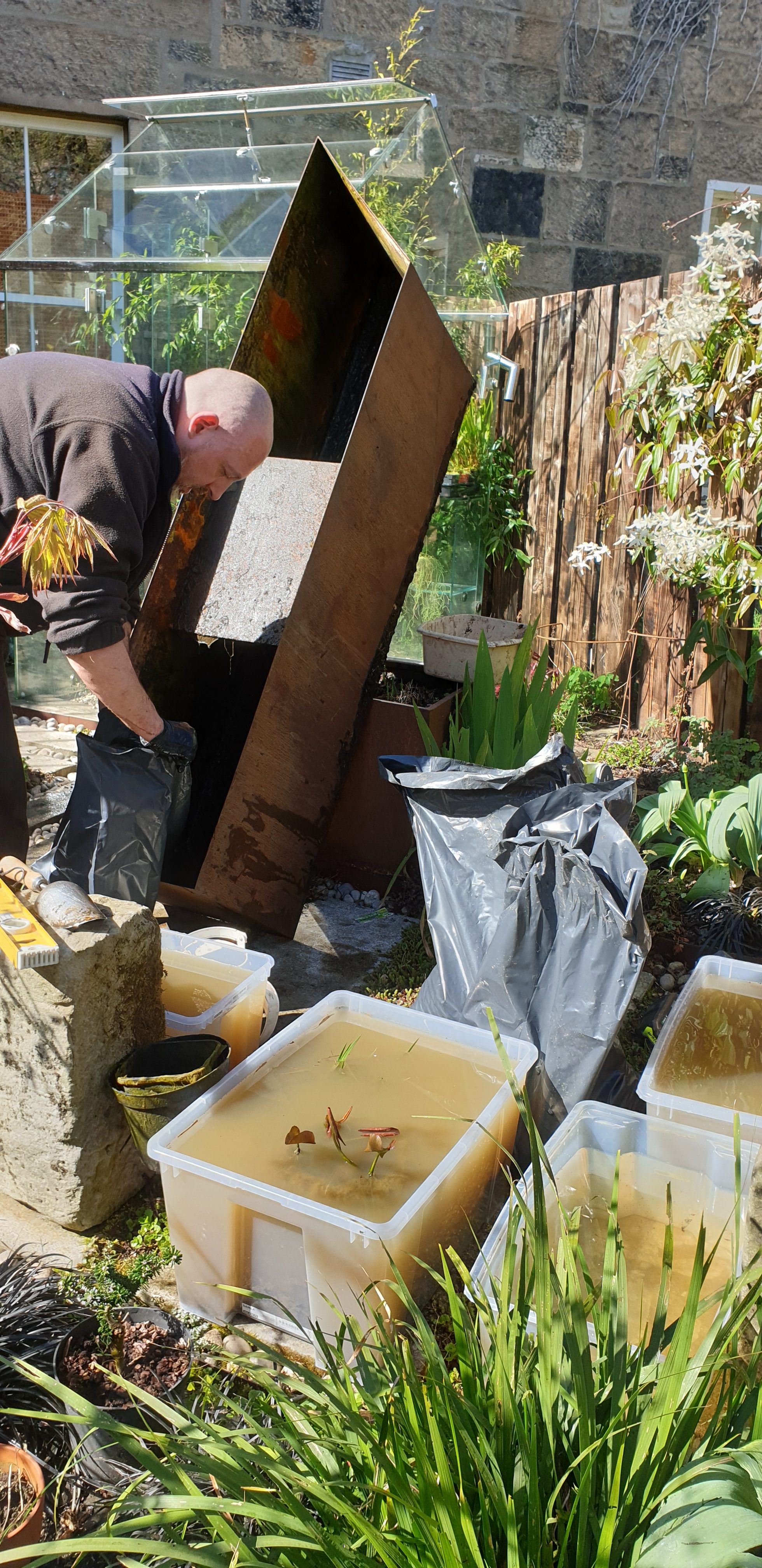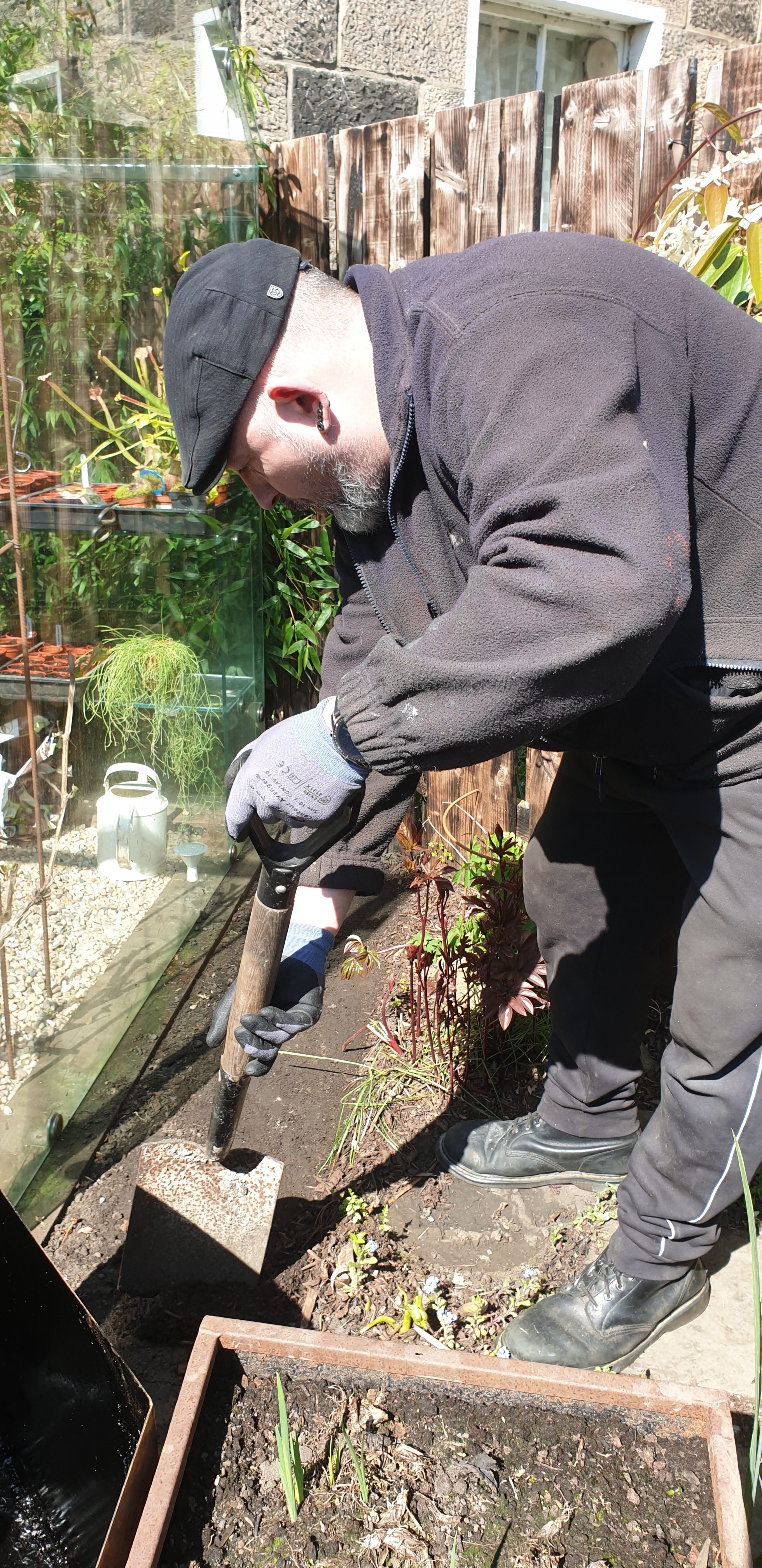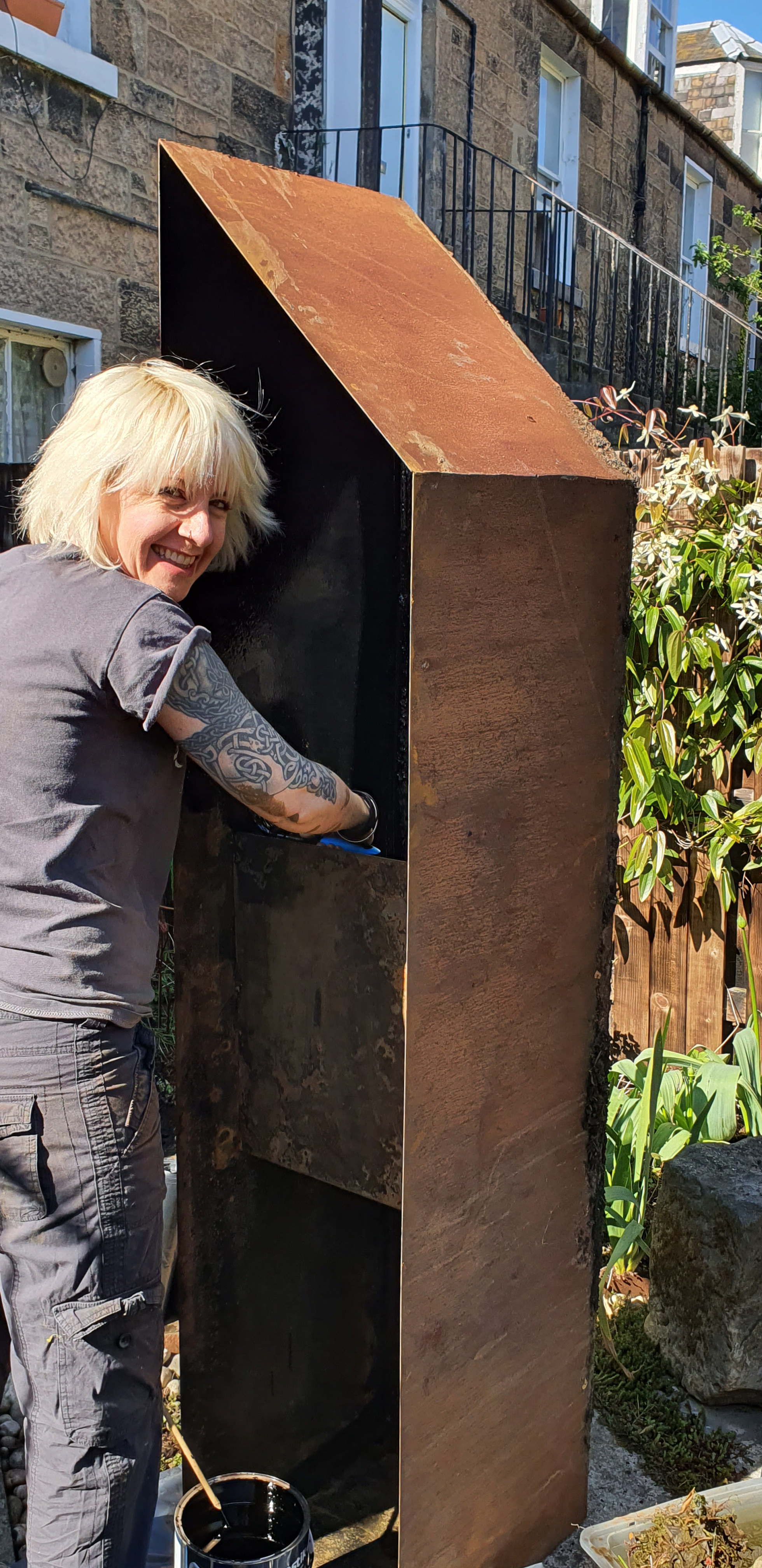 A bit about our garden
Alex and I built this garden two-and-a-half years ago. We came up with a bed plan based on an idea of triangles suggested by our great friend Jason of Twig Garden Design. We wanted to try to create lots of micro-environments. I needed shady bed for my arisaema and ferns, some sunny places in case I wanted to paint any sun loving plants, and as much planting space as possible. We also wanted sheltered areas for arisaema in pots, a greenhouse and places for wee sedums and other creeping things to grow. Oh and somewhere for us to occasionally sit. Primarily though this is a working garden!
Alex did all the ground work and hard landscaping including shuttering and pouring the concrete beams, building the Corten steel water tank and making the bed edgings. I planned and planted the beds. It's evolving as gardens do. It's small so if we don't like something it comes out, and something else goes in. I tend to stick to black and white flowers for the most part, but a wee bit of colour creeps in here and there. It's not meant to be a purple garden, those foxgloves were meant to be white but they reverted… They can stay this season next year they will be white! (-_-)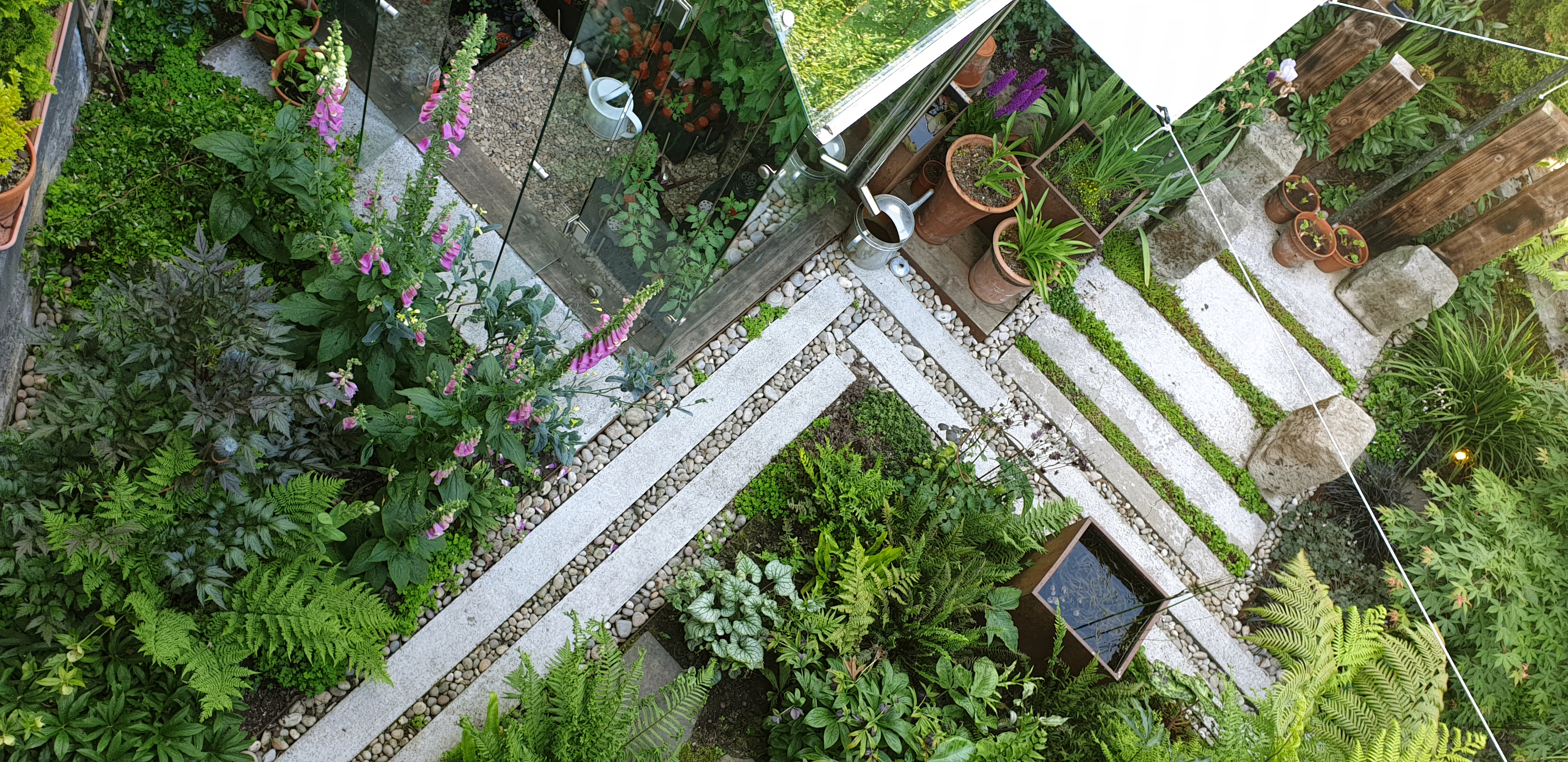 In other news
Upcoming exhibition
This spring and now into summer I have been working away on new Ink Shoot illustration pieces. I have been loving watching my plants grow and develop, and then working with them and getting lost in the ink. If all goes well, I am hoping to be able to share them with you at my 'Fine Hair, Hard Nibs' exhibition in October* at the Open Eye Gallery in Edinburgh.
*provisional dates are the 2nd to the 26th October 2020
The Pittenweem Arts Festival has been cancelled
Sadly the Pittenweem Art Festival will not be going on this year. It's obviously a necessary closure in line with the requirements brought on by Covid 19. I am going to miss the lovely group of ladies and gents with whom I exhibit and share space. I'm sending you air hugs and looking forward to next year! I'm also missing supremely the chance to chat with visitors new and returning. It really is such a great event, particularly for someone who works on her own at home. But we will catch up again!
The link between Corona, the environment and Black Lives Matter
I feel that my words here will be inadequate. I would love it if we could begin to heal the multiple trauma that the world is facing at the moment. There is so much despair, but I am encouraged by the world's scientists coming together to find solutions to this virus.  I am hoping that this situation acts as a wake-up call to governments all over the world. I am encouraged that as a planet we can look at ways of not intruding further into the wild, and of recognising the importance of protecting the environment not just in terms of an ethical stance but also from fiscal necessity.
I'd also love to think that we can work to heal the divisions in inequality from the ground up. I'd like to support sustainable and regenerative farming ventures to reverse food deserts in inner cities. If these ventures are supported by investment through fiscal and governmental reform, they could begin to heal chronic disease, providing a more balanced start for everyone. This is something that I will look into. I listen to a lot of podcasts featuring Dr Mark Hymen, he is doing a lot in this area and I value his work. If you are interested listen to his talk here – Our Food System: An Invisible Form of Oppression.  Black Lives Matter!
And finally…
I appear in the background of Alice Cooper's new video 'Don't Give Up'. I am very tiny and blurry, but I am there at 2.26 and 2.45, along with the welded sign that Alex made for me.
Alice asked fans to send in photos of themselves holding up signs with the lyrics to his new song, so I had to have a go – I'm a Big-Time Fan!
We did a few, as advised, for the best chance to be included. It was a fun lockdown activity. Massive thanks to Alex for his photography and patience – he's the man! Obvs so is Alice!!!
Wow that's a long blog… enjoy Gardeners' World (-_-)