Spirit of Rory McEwen
I was lucky enough to attend the Spirit of Rory McEwen event at Marchmont House, on the 30th April, an event celebrating Britain's best contemporary botanical artist, Rory McEwen, who would have been 90 years old this weekend.
The event organised by Marchmont House, former home of the McEwen family, comprised a private view of the exhibition in the stables courtyard, a day of talks related to Rory's botanical art, time as a musician, tv presenter, and as part of the folk and blues music scene of the 1960s and '70s, along with anecdotes from friends and family, providing a rounded look into an extraordinary life, and an evening meal with musical performances. I didn't attend the evening event, but I was lucky enough to attend the PV and day events.
The day event also comprised a section of tours, I opted to go on the Outdoor Sculpture Tour, which included a look into the private Walled Gardens created by Hugo Borge, not often open to view. The other tours, that I will endeavour to go on in the future, were a tour with their art curator and a tour of the house.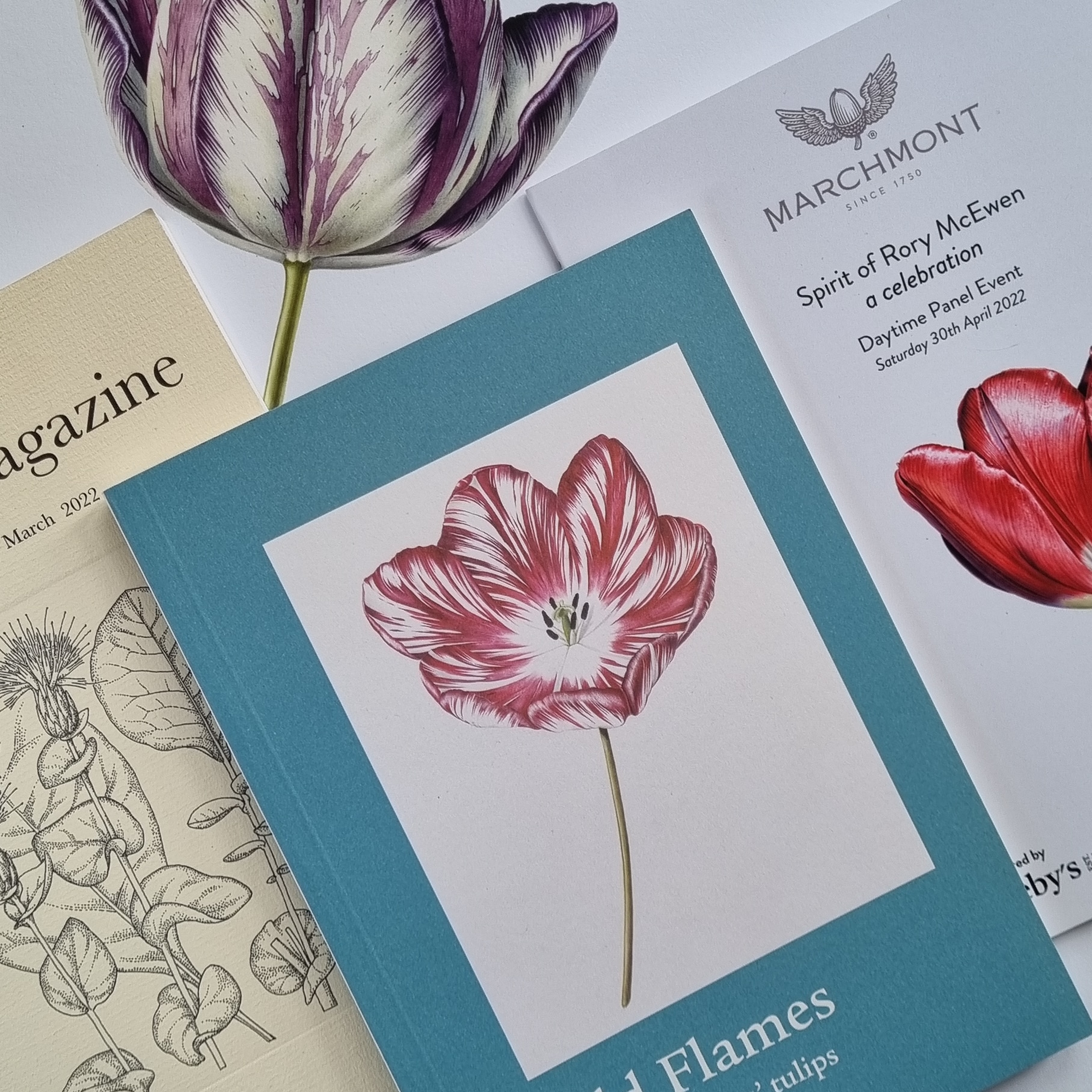 The talks
In particular, the talks that I was thrilled to attend, expertly overseen by Ruth Stiff, (Curator of International Exhibitions at Royal Botanic Garden Kew), were given by Dame Shirley Sherwood, Martin Rix and James Akers.
Dame Shirley Sherwood set the stage, giving an overview of Rory McEwen's place in botanical art history, including anecdotes about her 2013 Kew show, 'The Colours of Reality', at the Shirley Sherwood Gallery, this show was a thorough (and engrossing) retrospective of Rory McEwen's work, (there is a fabulous accompanying book available!), I recall being moved to tears visiting the 2013 exhibition and seeing Rory's work for the second time in my life, what a thrill!
Martin Rix gave a fascinating talk on his working relationship with Rory and showed some of the amazing fritillary that they worked on together, he also showed us fritillary in their natural environment which was eye opening, I never knew they grew in such rocky conditions!  He was kind enough to give me the latest edition of Curtis magazine which he edits.
We also had a talk from James Akers who heads up the Wakefield and North of England tulip society, the society used to send tulips to Rory to paint. James brought one of the original vases used to display their tulips and explained how they NEVER miss a show, cunningly holding their 2020 lockdown show in Sweden! He very kindly brought us the society's 'Old Flames, English Florists Tulips' featuring some of Rory's work.
Talks with Rory's artist children Adam and Sam discussed Rory's journey as a botanical and contemporary artist. Rory began working as a botanical artist in his early 20's working on paintings while studying at university, often in conjunction with horticulturalists and growers.  As he made connections within the art & music worlds, he experimented with various art forms and media, including contemporary sculpture. He continued to create botanical art throughout his life, and the fusion of experimenting with many disciplines changed the way that he presented botanical subjects from the strict scientific botanical illustration templates to paintings which brought botanical art into the contemporary art space.
Huge thanks to Marchmont House & team for the fascinating talks, insights, tours & inspiration from Hugo Burge, The McEwen family, Shirley Sherwood, Martin Rix, James Akers, Ruth Stiff, Lord Hesketh, Nicky Haslam, Martin Carthy, James Fox, David Ogilvy, David Dimbleby, Richard Demarko, Flora Hesketh, Adam McEwen, Sam McEwen, Christian McEwen, Christabel Holland, Flora McEwen & Jools Holland
Marchmont House as a creative space
Hugo Burge has established a fantastic sculpture and art collection and is now developing the estate as a place to nurture creators and makers, with studios available to selected resident artists and residencies available through various Scottish arts societies. Its so lovely to see support of this kind and I'm so excited to be involved in the
Marchmont House Open Studios
on the 14th and 15th May 2022