I was really thrilled when I heard that the printmaking studios in Edinburgh had bought the old rubber plant at Fountainbridge, its literally 5 mins walk for me and I really love drypoint and colograph (I did an evening course at ECA a few years back, you can see the results of that here…). I promised myself that once it was open I would go and try out some other processes and see what happens…
Fast forwards to last weekend when I went on a screen printing access course at the lovely new Edinburgh Printmakers, I should just add here that their facilities are really good and the technicians are super helpful.
It was a fascinating experience, looking at the various ways you could use the process and make different plates. It's a lot of work as there are many stages involved in the process*, I decided to try using one of my previous drawings to see what I could do and how the process would affect it and I am so happy with the results, I'm going to expand on this. It really melds with my previous life as a graphic designer, but is also a departure from what I do now, in that its a very technical process, and compared with the old days, it's hands on rather than computer based which is nice.
I made an edition of 7, 2 dark and 5 lighter purple, I thought I might make 5 of these available in the shop, if you are interested – visit the shop.
* the process involves coating a screen with a special emulsion which reacts under UV light, this in conjunction with your separation plates (1 for each colour) creates a mask through which you print. That sounds so simple – it took 2 days! (-_-)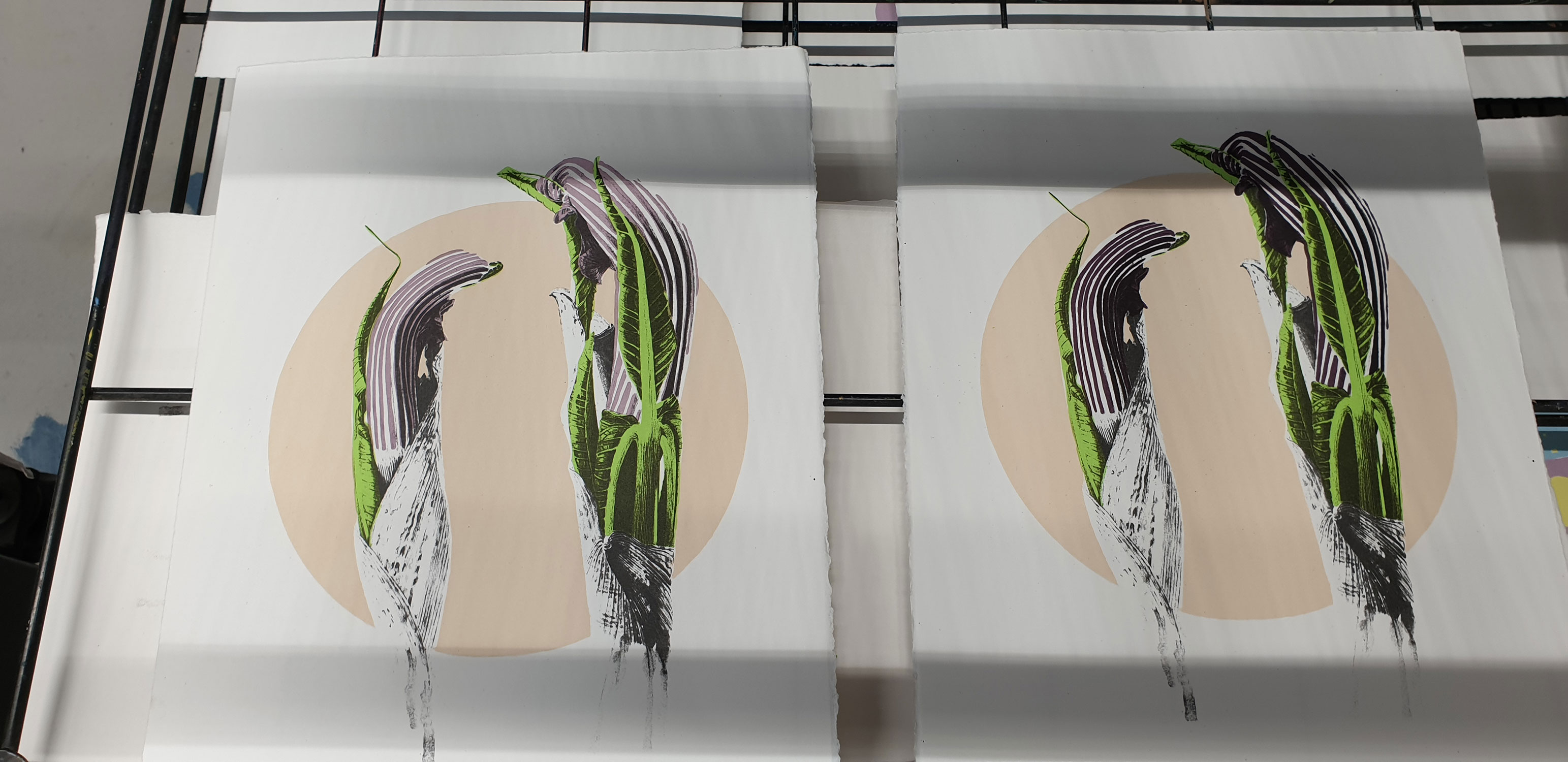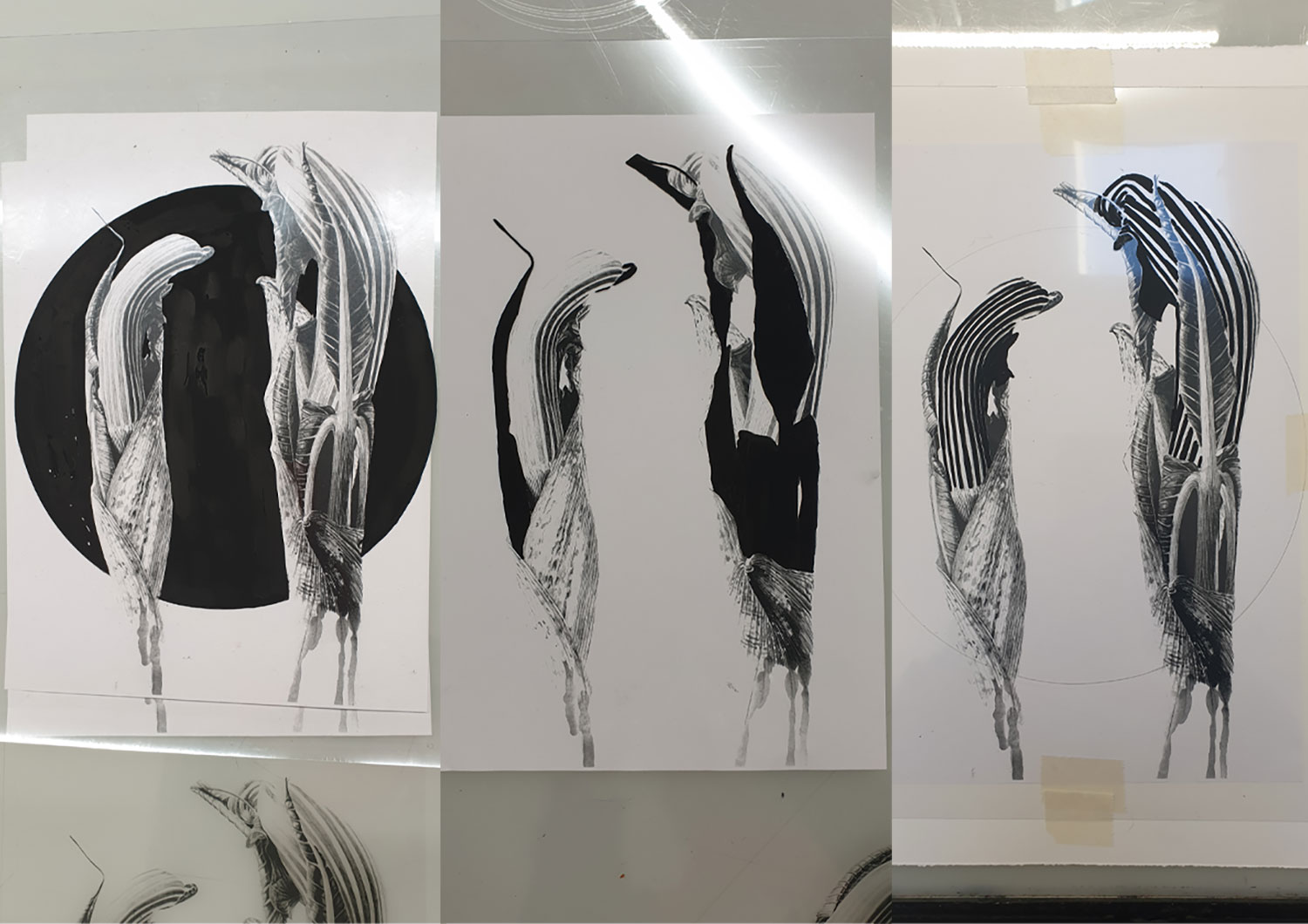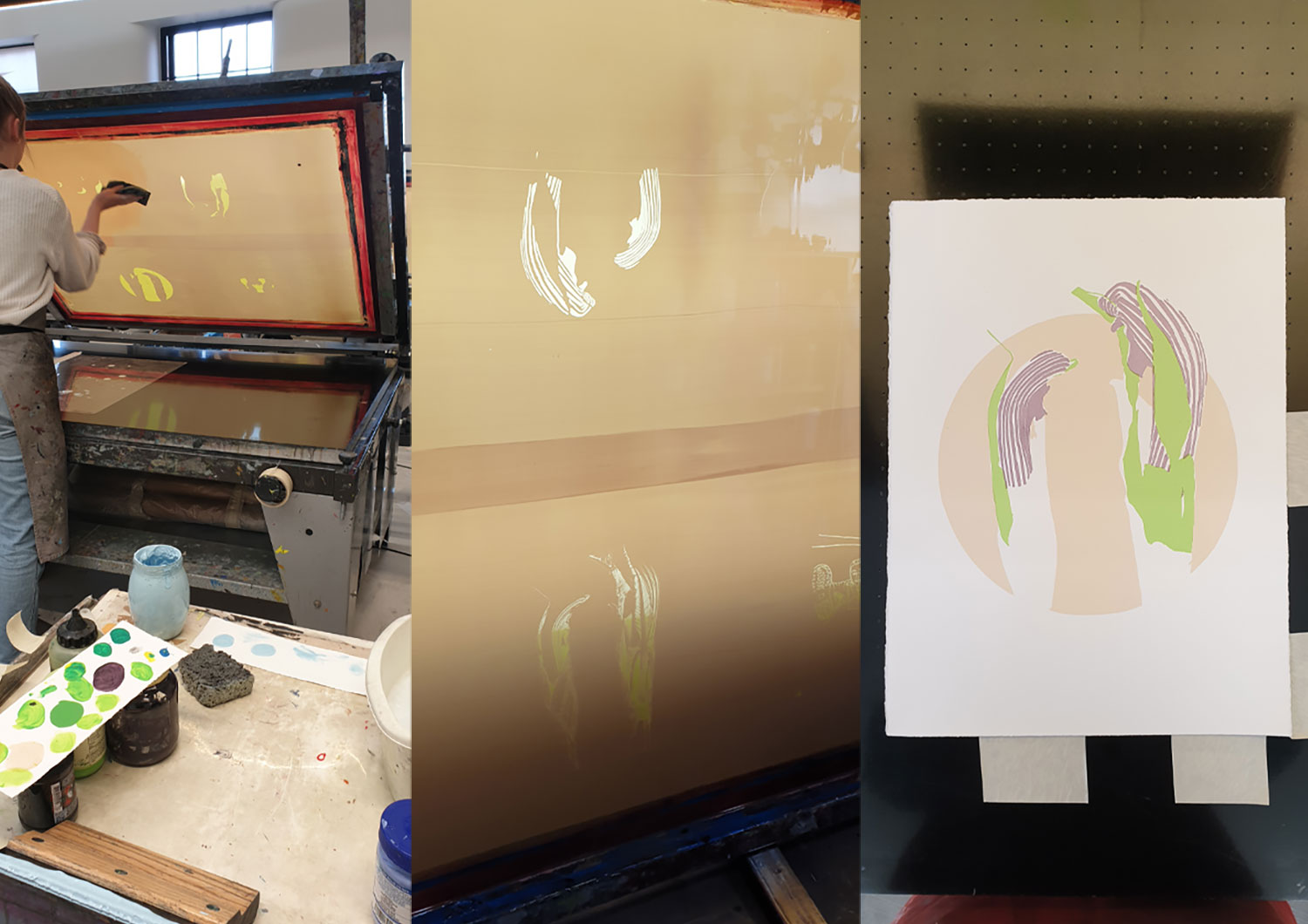 Small things
I've also added my 6 "small things" prints (£25), cards (£2.50) and original paintings (only 5 of the paintings, as one has already sold) to the shop. They are lovely wee specimens that I worked on pre, during and post diploma, and I think they go together really well (-_-)
A bit of random background…or brain blurb… Sweet pea pod, this was inspired after visiting the Rory McEwan exhibition in 1987 – yes it took a long time to come to fruition (ahem) but I got there in the end! The Cotinus smoke leaf reminds me of dragons, something to do with the edges of the yellow as it butts up against the purple, yup definitely a dragon hiding in there… Pomegranates! Mars and translucent and membraney fun… This Sorbus was from a tree at the bottom of our lane, I just loved the serrated margins and the depth of red upon red, they look like they could grasp your fingers if so inclined… Leaf – I don't know what kind of leaf this is – I am happy to have it remain unidentified, I picked it up along the Water of Leith, the bit that skirts the Stockbridge Colonies, and I just loved the variations in colour, it's my only piece of colour pencil work, which I don't do often as it gives me RSI – but I love this little guy.
Rachel Brown of DIY Garden got in touch to ask me if I would share this link about Butterflies and how to plant for them in your garden – I though that this was a great thing to do – so if you have a garden or even window boxes check it out and help provide some butterfly nourishment (-_-)
Latest reads/listens
I've been listening to Original Sin by PD James, I loved Children of Men, and was slightly disappointed on exploring further to see that PD James mostly wrote who dunnits and that Children of Men was the limit with regards to her Sci Fi output… However I thought I'd give one a try and it didn't disappoint!  I've just finished reading Full Throttle by Joe Hill, which comprised a number of short stories with varying degrees of linkage with our world as it is and some fantastical versions and one really great sci fi tale… I really enjoyed this and his previous anthology Strange Weather also had some really strong stories – I am enjoying Joe Hills work more and more (-_-)